Chile police raid 'child prostitution ring' in Santiago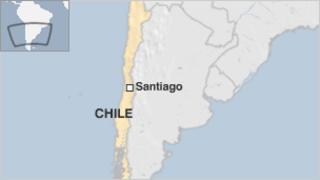 Police in Chile have arrested 19 people suspected of belonging to a child prostitution ring.
Officers raided a number of secret brothels where they said at least four underage girls worked.
They said the raids came after a four-month-long investigation during which they had uncovered a complex network of child abusers.
They were first alerted to it by an anonymous tip-off about a brothel employing underage girls in Santiago.
On Thursday night police raided 10 different addresses and arrested 19 people.
Complex network
The officers are still trying to establish the exact ages of the girls working in the brothels, but think they range between 12 and 17 years.
The Deputy Director of the Police Special Investigations Team, Cristian Hernandez, said clients would phone the brothels and specifically ask for underage girls.
Among those detained are the creator of a popular comic strip, an influential businessman and a television music producer, all of whom have denied having sex with minors.
Three of the detained have been released without charge, the others are expected to be charged with offences ranging from facilitating sex with minors to engaging in sex with minors.
Chile's Vice-President Andres Chadwick said that police were confronted by a "complex network involving sexual abuse of minors".
The arrests come just months after Chilean President Sebastian Pinera announced a raft of measures to combat child sex abuse.
They included the introduction of a database of convicted sex offenders and banning convicted paedophiles from working near children.