Alan Gross sues US over detention in Cuba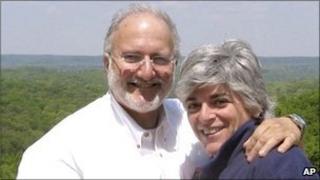 An American contractor serving a 15-year jail term in Cuba is suing his former employer and the US government.
Alan Gross and his wife Judy say he was not adequately trained or told about the risks he was incurring when he went to Cuba to do development work.
Mr Gross was jailed by Cuba in 2011 for "crimes against the state", after he took internet equipment to the island.
He had been working for a company under contract with the US Agency for International Development.
'Government pawn'
Mr Gross and his wife are suing his former employer, Development Alternatives Inc (DAI), and the US government for $60m (£38m).
In the suit, filed in a court in Washington DC, they allege that DAI and the government "failed to take adequate measures" to train and protect Mr Gross during his travels to Cuba.
They also accuse the company and the government of ignoring "Mr Gross's repeated security concerns so that DAI could continue to generate significant revenue and the Government could continue to use Mr Gross as a pawn in its overall Cuba policy initiatives".
A spokesman for the US Department of Justice said it was reviewing the case.
Mr Gross, 62, was detained in December 2009 while he was delivering computers and communications equipment to the Jewish community in Cuba. He was sentenced in March 2011.
Repeated requests by US government officials to free Mr Gross, such as that by New Mexico Governor Bill Richardson, have been rebuffed by the Cuban government.
Mr Gross's case is seen as a major obstacle to attempts to improve US-Cuban relations.
In September, Cuba said it was prepared to negotiate with Washington to find a solution to his detention.