Colombia: Farc declares unilateral truce at landmark talks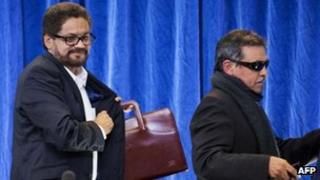 Colombia's left-wing Farc rebels have declared a unilateral two-month ceasefire as they start peace talks with government negotiators.
The announcement was made by the Farc delegates in Cuba's capital Havana, the venue of the landmark talks.
The first face-to-face meeting is aimed at ending decades of conflict in which hundreds of thousands were killed.
The top government negotiator earlier said the army would continue fighting the Farc until it signed a peace deal.
Humberto de la Calle stressed that the rebels must agree to give up their weapons.
Talks agenda
Farc lead negotiator Ivan Marquez said the rebels would halt all attacks from midnight on Monday until 20 January.
He said it was "a contribution made to strengthen the climate of understanding necessary so that the parties that are starting the dialogue achieve the purpose desired by all Colombians".
The government negotiators have so far made no comments on the latest Farc move.
The negotiations in Havana are expected to focus initially on the issue of land reform in Colombia, as it was a major reason for the uprising that brought about the establishment of the Farc (Revolutionary Armed Forces of Colombia) in the early 1960s.
Four other points will be discussed: the end of armed conflict; guarantees for the exercise of political opposition and citizen participation; drug trafficking; and the rights of the victims of the conflict.
During the official launch of the talks in Norway last month, Farc rebels had called the government to agree a truce.
But the Colombian government said at the time it would not repeat the mistakes of the past - a reference to the last peace efforts, which went on from 1999 to 2002.
At the time, a huge area controlled by the rebels in the south of the country was demilitarised, which, according to critics, allowed them to rearm and weakened their will to seek a peace agreement.
The Farc, who numbered 16,000 in 2001, are now thought to have some 8,000 fighters.