Bolivian curfew ends after 'successful' census day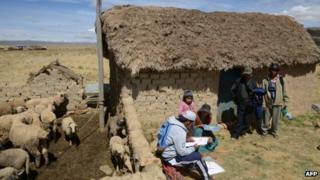 The Bolivian authorities say its first national census in 11 years went ahead without any major incidents.
The South American country came to a halt, with shops closed and virtually no traffic, following government orders for all Bolivians to go home and wait to be counted.
Police detained some 300 people for ignoring the curfew.
But the vast majority of Bolivia's population of almost 11 million people followed the rules.
Interior Minister Carlos Romero said some 35,000 policemen had been deployed to enforce the National Census Day regulations.
More than 200,000 canvassers collected data throughout the day, and restrictions began to be lifted in parts of the country in the afternoon.
In rural areas, canvassers were expected to continue working until Friday.
More than 300 vehicles were intercepted during the night without a permit.
"It is the first time I've seen a city practically empty, with most people respecting the restrictions," said Denis Racicot, from the United Nations High Commissioner for Human Rights in Bolivia.
"It is a very positive sign of the maturity of the population."
'Dividing Bolivia'
President Evo Morales said the census would "bring surprises" and could lead to changes in many municipal boundaries, especially in the Amazon region.
He also defended the controversial decision not to allow people to describe themselves as "mestizos" (mixed race) in the census.
"This would be like dividing Bolivia," said Mr Morales.
Bolivians - most of them of indigenous descent - have to choose between one of 40 ethnic groups.
"Without knowing how many we are, what we need, how will we be able to plan for the new generations?" said Mr Morales.
Estimates say the population in the Andean country has grown from 8.3 million in 2001 to nearly 11 million now.
Many residents questioned what they believed to be draconic and unnecessary measures imposed by the government.
Some said they were threatened with having their holiday homes confiscated if canvassers had found the properties empty.
Consumption of alcohol was also banned throughout the day.