Colombia's Farc call for US release of Simon Trinidad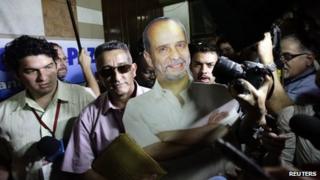 Colombia's left-wing rebel group Farc have called on Barack Obama to free a guerrilla leader serving a 60-year prison sentence in the US.
Simon Trinidad's presence would bolster the chances of peace talks with Colombia's government, said the group.
Trinidad was named as part of the Farc's negotiating team in September.
The rebels took a life-sized cardboard cut-out of Trinidad to peace talks in Cuba last week, but the US said it was unlikely to free Farc prisoners.
Trinidad was extradited to the US in 2004 and sentenced to 60 years in prison for kidnapping three Americans.
Farc negotiator Rodrigo Granda said: "We are asking the US president to use his powers to pardon, permitting Farc peace delegate Simon Trinidad to be physically present at the negotiating table in Havana.
"This humanitarian gesture by the US would be an immense support to Colombia's peace."
Sporadic clashes
Earlier this week, at the start of peace talks in the Cuban capital Havana, leaders of the Marxist group declared a two-month unilateral ceasefire - the first in more than a decade.
The Revolutionary Armed Forces of Colombia have been fighting against the government for half a century, in a conflict that has killed hundreds of thousands of people.
Numbering 16,000 in 2001, the rebels are now thought to have some 8,000 fighters.
Farc leader Alfonso Cano, who began the current process with the government, was killed in a bombing and ground raid by government forces last November.
Clashes between the rebels and Colombian forces have continued, despite the signing of an agreement in August spelling out the principles and procedures for the talks.