Colombia Farc rebels optimistic about Cuba peace talks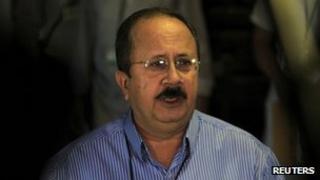 Negotiators from Colombia's largest rebel group, the Farc, say they are highly optimistic about peace talks currently under way in the Cuban capital, Havana.
The rebels denied reports that the atmosphere between them and Colombian government negotiators was tense.
But they did accuse Colombian Defence Minister Juan Carlos Pinzon of trying to sabotage the talks.
They also renewed their call for the release of a jailed rebel commander.
Going into another round of talks on Saturday, Farc negotiator Jesus Emilio Carvajalino, also known as Andres Paris, read out the statement in which the rebels accused Mr Pinzon of being a "minister of war".
"He's an element dedicated to the task of sabotaging the peace efforts the country is making," the statement said.
Jailed commander
Mr Pinzon had last week rejected a proposal by the Farc for a temporary unilateral truce, calling it "incoherent".
Farc lead negotiator Ivan Marquez had said the rebels would halt all attacks from 19 November until 20 January.
He said it was "a contribution made to strengthen the climate of understanding necessary so that the parties that are starting the dialogue achieve the purpose desired by all Colombians".
In Saturday's statement, the rebels also reiterated their demand that rebel commander Simon Trinidad, who is serving a 60-year prison sentence in the United States, be allowed to take part in the talks.
The negotiations in Havana are held behind closed doors, but the two teams said before the talks started that they would focus initially on the issue of land reform in Colombia.
Four other points will be discussed: the end of armed conflict; guarantees for the exercise of political opposition and citizen participation; drug trafficking; and the rights of the victims of the conflict.