Colombia: Farc peace talks in Cuba adjourned for a week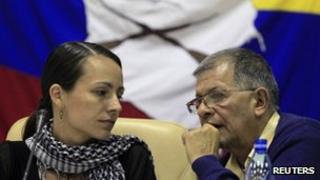 The Colombian government and rebels from the Farc have concluded the first stage of peace talks aimed at ending five decades of conflict.
Top government representative Humberto de la Calle said the talks in Cuba were "advancing as expected".
Farc negotiators said the atmosphere during the meetings was "very good", but stressed that there should be no rush to reach a peace agreement.
The talks are now scheduled to resume on 5 December.
Both sides have agreed to set up a webpage to receive proposals from the public. It will be open from 7 December.
A public forum in Bogota will also be organised on 17-19 December.
These are the first face-to-face negotiations between the Colombian government and the rebels in a decade.
'Little jokes'
In his first comments since the talks began in Havana on 19 November, Mr de la Calle reaffirmed that the final aim of the talks was to get the left-wing rebels to give up their armed struggle and join legal politics.
Mr de la Calle encouraged Colombian citizens to come up with "useful and relevant proposals".
"More than speeches, we want concrete results," he said, adding that the talks should lead to "a stable and enduring peace."
Mr de la Calle said previously that the process should be rapid and effective, lasting months rather than years.
Chief Farc negotiator Ivan Marquez said that both sides "will have to take as long as necessary to reach peace".
"We have to work without hurrying... we can't make mistakes. We can't set timetables - not seven or 10 months".
He stressed that any future peace deal should be based on "a solid, stable base".
Tanja Nijmeijer, another Farc negotiator, said the talks were "going very well".
"There's even space for little jokes, for laughing," added the Dutch national, who originally went to Colombia to teach English and ended up joining the rebels.
The negotiations focused initially on the issue of land reform in Colombia, as it was a major reason for the uprising that brought about the establishment of the Farc [Revolutionary Armed Forces of Colombia] in the early 1960s.
Four other points will be discussed: the end of armed conflict; guarantees for the exercise of political opposition and citizen participation; drug trafficking; and the rights of the victims of the conflict.
Hundreds of thousands of people have died since the conflict began in Colombia, with millions more displaced.
The Farc, who numbered 16,000 in 2001, are now thought to have some 8,000 fighters.