Argentina: Repsol files YPF nationalisation complaint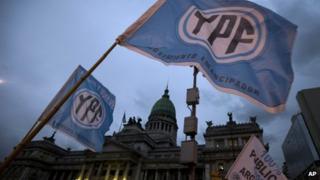 The Spanish oil company, Repsol, which had its assets in Argentina seized in April, has taken its case to the World Bank's arbitration body in Washington.
The Argentine government nationalised Repsol's subsidiary, YPF, accusing the company of under-investing in oil production.
Repsol rejected the allegations and described the action as "expropriation".
The Spanish company is requesting compensation for its losses.
It also wants the World Bank's International Centre for Settlement of Investment Disputes (ICSID) to rule YPF's nationalisation illegal.
The Spanish company said it has filed the complaint after waiting for more than six months for a solution.
Before the Argentine government's move, Repsol had 57.4% of YPF's shares.
The company estimates its assets were worth some $10.5bn (£6.5bn), but Argentina rejects the valuation.
In 2010 Argentina started importing fuel for the first time since YPF, Argentina's biggest oil company, was privatised in 1993.
President Cristina Fernandez de Kirchner blamed Repsol for draining YPF of its resources since acquiring a controlling stake in the 1990s and not investing enough to cope with growing internal demand.