Colombia's Farc peace talks resume in Cuba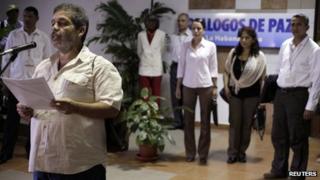 Peace talks between the Colombian government and Farc rebels have resumed in Cuba, after a week's break.
In a statement, the rebels hinted that there was still a long way to go before they could reach an agreement to end five decades of conflict.
The Colombian government has said a peace deal should be reached in a matter of months, not years.
It has continued its military attacks on Farc camps, despite a unilateral ceasefire declared by the rebels.
In a statement read before the second phase of talks began in Havana, Farc spokesman Marco Leon said it was "normal for the two sides' positions to appear far apart at the start".
Speaking to the BBC, Farc negotiator Andrew Paris refused to comment on how the killing of some 20 rebels by Colombian military in the weekend would affect the negotiations.
The government has stressed that the military will continue to fight the left-wing rebels until they sign a final treaty renouncing the armed struggle and agreeing to enter the legal political process.
'No deadline'
Chief government negotiator Humberto de la Calle has said the government will not repeat the errors of the past, in a reference to the previous peace talks which ended in 2002.
The government said the rebels used a ceasefire agreed then to rearm and regroup.
Last month, the Farc declared a unilateral ceasefire over the Christmas period, lasting until 20 January.
The Marxist rebels have repeated that no deadline can be set on reaching an agreement, as the talks deal with complex issues.
The negotiations, which were launched in Norway on 18 October, before moving to the Cuban capital a month later, have focused initially on the issue of land reform.
They will also focus on four other issues:
the end of armed conflict
guarantees for political opposition and citizen participation
drug trafficking
the rights of victims of the conflict
"This has to be a process of months, rather than years," President Juan Manuel Santos said, setting November 2013 as the deadline for an agreement.
Hundreds of thousands of people have been killed in the internal conflict in Colombia since the Farc was founded in 1964.