Oscar Niemeyer: Brazil bids final farewell to architect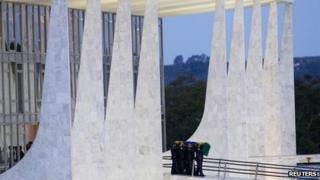 Thousands of Brazilians have paid their final respects to the renowned architect Oscar Niemeyer, who died on Wednesday at the age of 104.
Mourners filed past his coffin in the capital Brasilia and later in Rio de Janeiro where the funeral took place.
Flowers were sent by admirers around the world including the Cuban leader Raul Castro and his brother, Fidel.
Mr Niemeyer achieved fame as the architect of government buildings in Brasilia, inaugurated in 1960.
On Friday, his coffin lay covered with the Brazilian flag and three red roses in Rio's City Hall as mourners filed past.
It had been flown there from Brasilia where it had lain in the Planalto presidential palace - a building he had designed.
At the Sao Joao Batista Cemetery in Rio, mourners followed the funeral cortege through the front gates.
Some prayed and sang hymns while others waved the communist party flag - the architect was a firm communist and atheist.
A samba group played during the interment.
Oscar Niemeyer started his career in the 1930s and his bold futuristic designs in Brasilia made the new capital an icon of modern architecture.
Mr Niemeyer also worked with Swiss-born modernist architect Le Corbusier on the UN building in New York.