Venezuela's Nicolás Maduro: Dictator or defender of socialism?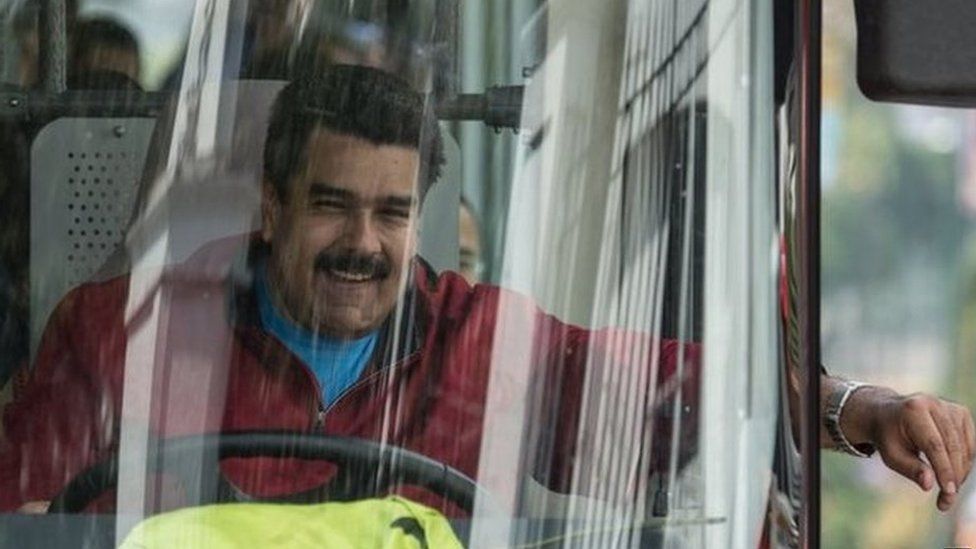 Nicolás Maduro, who was elected president of Venezuela in April 2013, has divided opinion almost as much as his predecessor, Hugo Chávez.
The first half of his presidency saw the opposition regain control of parliament and launch a united effort to remove him from office. That bid failed - and his second term began in 2019 after an election marred by an opposition boycott.
Since taking power, he has been accused of undermining democracy and violating human rights in Venezuela, which is in the grip of a severe economic crisis.
Scores of anti-government protesters have been killed in clashes with the security forces since 2014. in the US, the Trump administration says Mr Maduro is running a "devastating dictatorship".
And yet, despite the outrage from within and beyond Venezuela, he remains a commanding figure there - and not just because of his 1.90m (6ft 3in) stature.
More about Venezuela's crisis:
Many followers of the country's leftist Bolivarian Revolution say that while he lacks the magnetism of Mr Chávez, the president is a loyal defender of his legacy.
He pitched it as a way of promoting "reconciliation and peace", but critics saw an attempt to strengthen his grip on power.
He found himself further isolated after his re-election. National Assembly leader Juan Guaidó proclaimed himself interim president in January 2019, alleging widespread vote rigging and arguing that the presidency was vacant as a result.
More than 20 nations branded Mr Maduro's presidency illegitimate, and recognised Mr Guaidó.
A 55-year-old former bus driver with a long career in trade unionism
Assumed the interim presidency when his mentor, President Hugo Chávez, died on 5 March 2013
Previously served as Chávez's foreign minister
Elected on 14 April 2013 by a narrow margin for a six-year term, he began a second in January 2019 after a controversial vote
Under his government, Venezuela was hit by a recession and inflation skyrocketed
Despite hyperinflation and mass outward migration, he has insisted on the statist economic policies started by Chávez, and like him, has blamed problems on "sabotage" by local elites and "imperialists", while the opposition accuses him of mismanagement and increased authoritarianism.
Such rhetoric is not surprising as Mr Maduro's ties to Chávismo, the brand of socialism spread by Hugo Chávez, go back some 25 years, when Mr Chávez served time in prison for the attempted coup of 1992.
During this time, Mr Maduro also met his future wife, Cilia Flores, a prominent lawyer on Mr Chávez's defence team.
Mr Maduro is a political veteran, having been a member of Venezuela's parliament, the National Assembly, and at one point becoming the assembly's speaker.
He served as President Chávez's foreign minister from 2006 until 2013, and briefly as vice-president, taking over as acting president upon Mr Chávez's death in March of 2013 until new elections were held the following month.
He invokes the memory of his predecessor incessantly, quoting Mr Chávez and frequently speaking in front of a picture of the late leader.
Since Mr Chávez's death, he has kept the Chávismo legacy alive, a move welcomed by those who have benefited from the reduction in inequality and poverty, but much to the chagrin of those who believe the country has been driven into ruin by decades of what they consider misguided policies.