Venezuela's leader Nicolás Maduro divides opinion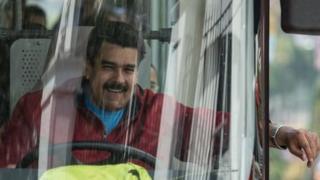 Nicolás Maduro, who was elected president of Venezuela five years ago, has divided opinion almost as much as his predecessor in office, Hugo Chávez.
The first half of his presidency has seen the opposition regain control of parliament and launch a united effort to remove him from office.
While he lacks the magnetism followers of Mr Chávez attributed to the late president, he is a commanding figure in Venezuela, and not just because of his stature of 1.90m (6ft 3in).
Derided as a poor copy of his mentor, Mr Maduro has not been ousted by the opposition or by rivals in his own party, as some had predicted when he was first elected.
Even a year ago few expected the leader, in a country in the midst of a severe economic crisis, to be able to maintain power for a second term. But he appears likely to achieve a second mandate in Sunday's presidential election.
Venezuela has been in a recession since 2014, with runaway inflation and shortages of many basic goods - a crisis Mr Maduro has blamed on an "economic war" waged by his opponents.
More about Venezuela's crisis:
Since assuming office in 2013, Mr Maduro's administration has drawn widespread condemnation from a string of nations worldwide for undermining democracy and violating human rights in his country.
Last year scores of protesters were killed in clashes during months of anti-government protests.
Mr Maduro has also set up a new constituent assembly with the power to bypass and even dissolve the opposition-led National Assembly. The European Union and major Latin American nations said they would not recognise the new body.
The US imposed sanctions on Mr Maduro after a controversial poll to elect the new body. The Trump administration says the Venezuelan leader is a "dictator".
However, he has maintained substantial support from the followers of his country's leftist Bolivarian Revolution, many of whom see him as a loyal defender of Chávez's legacy.
Nicolás Maduro
A 55-year-old former bus driver with a long career in trade unionism
Assumed the interim presidency when his mentor, President Hugo Chávez, died on 5 March 2013
Previously served as Chávez's foreign minister
Elected on 14 April 2013 by a narrow margin for a six-year term
Under his government, Venezuela entered into recession and inflation skyrocketed
His opponents paint him as a ruthless despot who detains his political rivals on overly harsh charges pressed by a judiciary under his party's control, while his followers say he is protecting the country from another coup.
Mr Maduro has faced a severe economic crisis hastened by the collapse in the price of oil, which provides the country with more than 90% of its foreign revenue.
Despite hyperinflation and mass outward migration, he has insisted on the statist economic policies started by Chávez, and like him, has blamed problems on "sabotage" by local elites and "imperialists", while the opposition accuses him of mismanagement and increased authoritarianism.
Such rhetoric is not surprising as Mr Maduro's ties to Chávismo, the brand of socialism spread by Hugo Chávez, go back some 25 years, when Mr Chávez served time in prison for the attempted coup of 1992.
During this time, Mr Maduro also met his future wife, Cilia Flores, a prominent lawyer on Mr Chávez's defence team.
Mr Maduro is a political veteran, having been a member of Venezuela's parliament, the National Assembly, and at one point becoming the assembly's speaker.
He served as President Chávez's foreign minister from 2006 until 2013, and briefly as vice-president, taking over as acting president upon Mr Chávez's death in March of 2013 until new elections were held the following month.
He invokes the memory of his predecessor incessantly, quoting Mr Chávez and frequently speaking in front of a picture of the late leader.
Since Mr Chávez's death, he has kept the Chávismo legacy alive, a move welcomed by those who have benefitted from the reduction in inequality and poverty, but much to the chagrin of those who believe the country has been driven into ruin by decades of what they consider misguided policies.