Rivera death: US to help plane crash investigation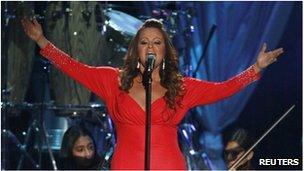 The US National Transportation Safety Board (NTSB) has said it will send a team to help investigate the plane crash which killed Mexican-American singer Jenni Rivera.
The 43-year-old died when the plane she was travelling in came down on Sunday in Nuevo Leon, in northern Mexico.
The Learjet 25 had disappeared shortly after taking off from Monterrey.
Rivera was born in California in 1969 to Mexican parents and sold more than 15m records of norteno and banda music.
She and six others died in the crash near the town of Iturbide in the Sierra Madre Oriental region of Nuevo Leon state.
As well as the two pilots, the victims were named as Arturo Rivera, her makeup artist, Jacob Yebale, and two friends, one named Mario Macias and another who was only identified as Gerardo, the Associated Press reports.
Mexico's civil aviation chief Alejandro Argudin told local media that the plane had been "totally destroyed" and its wreckage scattered over a wide area.
He has said that it will take at least 10 days to have a preliminary report on what happened.
A damaged California driver's licence with Rivera's name and photograph was found among the wreckage.
In a statement, the NTSB said it was sending a team "specialising in airplane airworthiness and flight crew operations" to help the Mexican authorities, along with advisors from the Federal Aviation Administration (FAA) and Learjet.
According to the NTSB, the twin-turbojet, a Learjet 25, was substantially damaged in a 2005 landing mishap at Amarillo International Airport in Texas, AP reports.
The plane, which was registered to a company in Houston, Texas, at the time, reportedly hit a runway distance marker after losing control.
Rivera, known as the "diva de la banda" and a judge in the popular television programme La Voz, Mexico's version of The Voice, had performed in Monterrey on Saturday.
She was travelling to the city of Toluca, outside Mexico City, when the plane disappeared, officials said.
A spokesman for Nuevo Leon's government said the plane had left Monterrey in the early hours of Sunday and aviation authorities lost contact with it about 10 minutes later.
It had been scheduled to arrive in Toluca about an hour later.
Although Rivera sang about drug trafficking, most of her music was about her misfortunes in love.
She was at the peak of her career and was especially well-loved by her fans for the way she talked openly about her troubles, correspondents say.
She recently divorced her third husband, Esteban Loaiza, a professional baseball player who has played for the New York Yankees and the Los Angeles Dodgers. She leaves five children and two grandchildren.
Related Internet Links
The BBC is not responsible for the content of external sites.