Chile Freirina pig plant closes after smell protests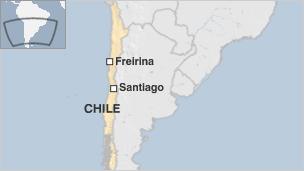 A pig processing plant in northern Chile that provoked months of protests by local people over the stench is to close indefinitely, its owner says.
In May, authorities ordered the plant closed and 500,000 pigs removed, as residents blocked access to the site.
Operations resumed recently, provoking renewed demonstrations.
Food firm Agrosuper said stricter environmental controls demanded by the government meant the plant was no longer economically viable.
Residents in the city of Freirina had long campaigned for the Agrosuper plant, one of Latin America's biggest meat processing sites, to be shut, saying it produced a strong and unpleasant smell.
In May, the authorities declared a health alert in the area and temporarily closed the plant, after residents blocked the entrance and pigs began to die from lack of food and water.
Agrosuper was given six months to evacuate all the pigs, but protesters said it still had 270,000 animals there at the beginning of November.
However, the Chilean government issued a new decree allowing it to resume its activities last month, provoking further protests.
"The recent environmental rating substantially restricts our operation, leaving us a limited economic viability," a statement from Agrosuper's board of directors said.
"This and the recent events, which we regret, have led the company to take this decision."
Local people welcomed the announcement.
"This is a triumph for an organised community," Freirina Mayor Cesar Orellana told the Associated Press.
Agrosuper said it was sorry that the plant's closure would mean job losses.