Hugo Chavez allies win 20 of 23 Venezuela governorships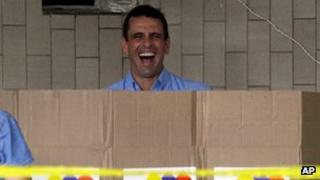 Venezuelan President Hugo Chavez's Socialist Party has increased the number of governorships it holds, winning 20 of the country's 23 states.
The opposition coalition held on to two key states, including Miranda, where Henrique Capriles was re-elected.
Sunday's poll took place amid uncertainty over the health of Mr Chavez, who is in Cuba recovering from cancer surgery.
Socialist Party leaders urged voters to turn out in support of the president.
However, the number of people voting was put at 53%, well down on the 80% turnout in October's presidential election.
Aides said Mr Chavez had been watching the election closely and had "resumed giving instructions and governing".
Chosen successor
The National Election Council said the Socialist Party, had won 20 governorships, two more than last time.
The opposition retained Miranda and Lara states, the council added.
Opposition leader Henrique Capriles won re-election as governor of Miranda state by defeating former Vice-President Elias Jaua.
Mr Capriles, candidate of a coalition of opposition parties, was defeated by Mr Chavez in October's presidential election.
Mr Chavez is due to be sworn in on 10 January for a fourth term in office.
Earlier this month, President Chavez said the cancer he hoped had been cured had in fact returned.
He underwent cancer surgery in Cuba last Tuesday - his fourth such operation since last year.
If his health fails in the first four years of his term, the Constitution states that a new election needs to be called in 30 days.
Mr Chavez has said that Vice-President Nicolas Maduro is his preferred successor.