Inmate and guards killed in Mexico jailbreak attempt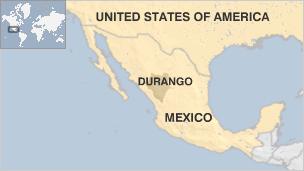 At least 17 people have been killed during an attempted jailbreak in Mexico, officials say.
Eleven inmates and six guards died in a shootout in the city of Gomez Palacio as the prisoners tried to escape through tunnels.
Gang violence is an endemic problem in the Mexican penal system.
The incident happened a day after President Enrique Pena Nieto announced the creation of a national police force to help tackle crime and violence.
The latest deadly clashes, which occurred in the state of Durango, appear to have happened when wardens tried to prevent prisoners from fleeing, the BBC's Mexico correspondent Will Grant reports.
It is the first violent episode at a Mexican prison since President Pena Nieto took office on 1 December, our correspondent says.
Assaults and mass prison breaks are particularly frequent in jails housing inmates linked to the country's drug cartels and organised crime.
In September, more than 130 prisoners, many from the powerful Zetas cartel, escaped from a facility in the state of Coahuila, close to the US border.
So far only a handful have been re-arrested.
On Monday, President Pena Nieto unveiled a six-point strategy to combat crimes linked to drug violence, kidnappings and extortions. His plan includes a new militarised force of 10,000 officers.
However, there has currently been no mention of reviewing the country's antiquated and dangerous prisons, our correspondent says.
Human rights groups say the penal system suffers from chronic overcrowding and is in urgent of an overhaul.