Dilma Rousseff and Brazil set for two testing years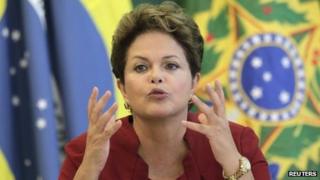 It was more polite applause than thunderous cheers as Brazil's normally stern-looking President, Dilma Rousseff, jauntily kicked a ball to inaugurate the first of 12 stadiums set to host the 2014 Fifa World Cup.
But December's opening of the stadium in the north-eastern city of Fortaleza was a key moment as Brazil gears up to be the centre of sporting attention.
"We Brazilians are showing the world that we are good both on and off the football field," said President Rousseff as she inaugurated another stadium, this time in the city of Belo Horizonte.
After years of planning for the World Cup and the 2016 Rio Olympics, the moment has arrived for Brazil to start delivering.
And with Ms Rousseff now halfway through her four-year term, her own ability to produce results is also under scrutiny.
According to recent opinion polls, Ms Rousseff enjoys approval ratings of 62% - the highest achieved by a president in their first two years.
Her popularity has continued despite a slowdown in the economy, with growth in 2012 at just 1%, well below the expectations of the government and investors.
This sluggish performance is the worst compared with other Bric nations Russia, India and China, and is in sharp contrast to a 7.5% rate recorded just two years ago.
Given this, economic analysts say, 2013 will be a crucial year for Brazil - and the government.
"Another 'PIBinho' (or 'tiny GDP', as Brazilians have been calling last year's results) will be devastating for Dilma and for the country's image," says historian Jose Murilo de Carvalho, of Rio de Janeiro's Federal University (UFRJ).
"Once more the dream of becoming a great power, which Brazilians have aspired to since independence (in 1822), will be frustrated."
No-nonsense
The halfway point of Ms Rousseff's first term also marks 10 years in office for the Workers' Party, which first won the presidency under her predecessor and mentor Luiz Inacio Lula da Silva.
During this period, Brazil has won international acclaim for reducing some of its extreme inequality.
Ms Rousseff has taken some of the credit for that, says Mr Carvalho, but he also points to other factors.
He believes the president is gaining supporters among Brazil's growing middle class, who are increasingly aware of their rights as taxpayers.
"These people are more concerned about having a good government in terms of efficiency, honesty and transparency, which is Dilma's promise," he says.
Ms Rousseff lacks former president Lula's charisma, but her firm style has earned her a reputation as a tough, no-nonsense manager - and an ethical one.
She sacked seven ministers for allegations of corruption and has frequently said she will not tolerate wrongdoing.
But it is the economy that the opposition will be focusing on to develop its campaign for the presidential elections in 2014.
The Social Democratic Party (PSDB), which governed before Lula, aims to attack President Rousseff's image as an efficient manager.
Another area where Ms Rousseff could face a big challenge is Brazil's energy sector. Water levels in the reservoirs that feed the country's hydroelectric power stations are as low as in 2001, when the authorities were forced to introduce nationwide energy rationing.
Ms Rousseff, who was Lula's minister for mines and energy, has dismissed any need for rationing this time, but has been holding emergency talks on the issue.
Skills shortage
The government puts much of the blame for the economic slowdown on the wider international financial crisis, which has affected traditional trade partners such as the US and Europe.
But analysts say the problem is just as much internal.
"Now that the international situation has deteriorated, there is growing demand for products and services here," says Fernando Lattman-Weltman, from the Getulio Vargas Foundation in Rio de Janeiro.
"But businesses have difficulty to meet this demand because of problems such as poor infrastructure, an unskilled labour force and a high tax burden."
The government seems to be trying to tackle these problems, says Luciano Rostagno, chief strategist for WestLB Bank.
"But these are improvements that will only happen in the medium-term," he says.
Mr Rostagno predicts growth will be 3.5% this year, while the government, which has proved to be overly optimistic in 2012, is suggesting 4%.
But GDP should not be the sole measure of success, says political scientist Eduardo Raposo, of Rio's Pontifical Catholic University (PUC-Rio).
Looking at the wider picture, he says Brazil is going through "a good moment". Its institutions are growing stronger, as shown by a recent major corruption trial before the Supreme Court that convicted 25 people, among them high-profile politicians.
"We are living the longest period of democracy in Brazil's republic since the end of the dictatorship (in 1985). This brings an institutional stability that we'd never seen before," says Mr Raposo.
But for the year ahead, the success of the Rousseff administration looks set to rest on what can be achieved economically.
Just before Christmas, Ms Rousseff said 2013 would be the year to reap the benefits of measures taken in 2012, such as lowering interest rates.
She told reporters her hope for 2013 was a "PIBao grandao", or a "big fat GDP".
She will be joining 190 million Brazilians in rooting for the national football side to triumph in this year's Confederations Cup curtain-raiser and in next year's World Cup.
However well - or not - the economy is doing then, a Brazil victory could well earn Dilma Rousseff extra popularity points.