Seized Argentina navy ship Libertad leaves Ghana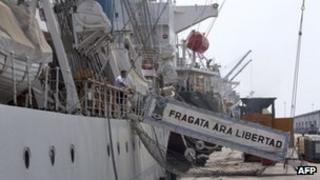 An Argentine navy ship detained in Ghana since October has been released and has now left the country.
The Libertad set sail from Ghana's main port of Tema after a United Nations court last week ordered its release.
Argentina sent almost 100 navy personnel to man the three-masted training ship.
It was impounded after a financial fund said it was owed money by Argentina's government as a result of a debt default a decade ago.
'Immunity'
On Saturday, the UN Tribunal for the Law of the Sea ordered Ghana to release the ship, arguing that it had immunity because it was a military vessel.
It set a deadline of 22 December for the ship to have left the port.
The court said that holding the ship was "a source of conflict that may endanger friendly relations among states".
In November, sailors on board the Libertad reportedly pulled guns on Ghanaian officials when they tried to board the vessel to move it to another berth.
The lengthy diplomatic row began when the ship was prevented from leaving Ghana on 2 October, after a local court ruled in favour of financial fund NML Capital. The fund is a a subsidiary of US hedge fund Elliot Capital Management which is one of Argentina's former creditors.
The fund said it was owed $370m (£233m) by the Argentine government after the country defaulted on its debt in 2001 and 2002.
NML Capital was seeking $20m in return for the release of the Libertad.
Most of the loans on which Argentina defaulted were subsequently restructured, giving creditors about 30% of their money back.
However, some creditors including Elliot chose to hold out, pursuing the Argentine government through the courts.