Ecuador Central Bank governor resigns over fake degree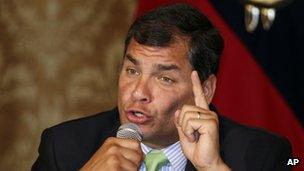 The governor of the Central Bank of Ecuador has resigned after admitting that he lied about having a degree in economics.
Pedro Delgado apologised for providing false information when he applied to a business school more than 20 years ago.
He finished his masters degree there, but the business school - Incae - discovered he'd lied in his application and informed the government.
Mr Delgado had been in the post since November 2011.
"I have to admit that I have made a serious mistake 22 years ago which is costing me very dear," he said on television on Wednesday night.
In his application form to join the Incae business school, in Costa Rica, Mr Delgado said he had a degree from Ecuador's Catholic University.
Opposition MP Enrique Herreria denounced him to the Prosecutor's Office last month, based on the business school findings.
President Rafael Correa, who is Mr Delgado's cousin, promised to investigate.
"A very hard day. We can confirm that Pedro Delgado had presented a fake degree at Incae," he tweeted.
"It has been a big blow to the revolution," he said, referring to his left-wing programme of government.
The president had previously accused the media in the South American country of carrying out a campaign against his government.
Mr Delgado rejected other accusations of illegal financial operations with Iran, which he said were an attempt to smear the president.
"Nothing has been found out because all these accusations were fabricated to damage the image of the one who leads the revolution," he said.
Ecuador's economy, which is largely based on oil and remittances from the US and Spain, is expected to grow by 5% in 2012.
Mr Correa has been in power since 2007 and already been re-elected once - the first such success for an Ecuadorean president in more than 30 years.
He is running for re-election in February.
Related Internet Links
The BBC is not responsible for the content of external sites.