Cuba town battles to preserve British West Indian ways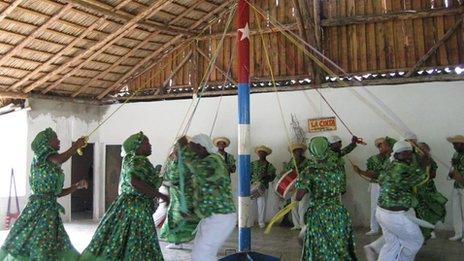 Baragua looks like a typical town in rural Cuba. Its streets are lined with once brightly coloured low-rise houses and crowded not with cars but with bicycles, horses and carts.
But listen closely to the locals and you notice the difference. Here, in the heart of Cuba, you hear English as well as Spanish spoken.
It is almost a century since hundreds of British West Indians headed for the island looking for work in the sugar industry. In those days many firms, like the Baragua Sugar Company, were run by Americans.
"They came expecting to earn a salary then go back to their country," says 86-year-old Ethelbert Scantleberry, whose parents travelled to Baragua from Barbados in 1920.
For many other West Indian immigrants, their route to Cuba was via Central America where they had worked on building the Panama Canal.
"They came looking for a better life," says Ethelbert whose parents, like many, ended up settling here and raising a large family.
Today their descendants are battling to keep old traditions alive.
The church of St James still opens its doors on Sundays, the last of five that once served the English-speaking population here.
But a full Mass is rarely celebrated now: the parish priest left Cuba years ago. Instead, an elderly deacon leads prayers for a handful of parishioners, most of them pensioners.
A tape recorder has replaced the once renowned church choir.
"The churches used to be full of people," Ethelbert remembers, wistfully. "Not like today, with only a few of us here."
Black and white photographs of the old days pinned up at the back show packed pews and children in their Sunday best.
"In this vicinity everyone spoke English, Jamaicans and Cubans, because we all grew-up together and went to the English school," Olivia Berry explains in a lilting accent.
But that school was closed after Cuba's revolution in 1959 and the community's English has been fading ever since. Even the Sunday service is in Spanish now; the old English-language books are gathering dust down a side passage.
"Today we speak to our children in English, and they reply in Spanish," says Olivia.
But there is one English custom that younger generation has inherited a passion for.
Baragua's cricket team practise on the edge of town where the grass is long and the ground bumpy. The enthusiastic players do not seem to notice though, as they smash balls into the distance.
Still, it is not easy with limited resources. Cricket is classed as a hobby in Cuba not a sport, so there is no state funding for equipment.
"The bats are no good," sugar worker turned cricket umpire Henry Paris Jordan comments as yet another homemade creation splits in two.
The team's one decent bat donated by the Embassy of Barbados in Havana is now in tatters too.
"Good bats are from India and Pakistan and we can't get that here," says Henry.
Getting a match can be tough too, and not just because this is a land of baseball fanatics.
"There are teams in Las Tunas and Guantanamo, there's plenty of West Indians there," one of the players, Gaskin, points out, as a man passes the pitch with an enormous pig on a rope.
"But sometimes there's no gas for the truck to carry them here," he shrugs.
Meanwhile, first hand accounts of Baragua's West Indian history are becoming scarce.
A few streets from the cricket pitch, Ruby Ellis sits on her porch in a wheelchair watching the world go by. The sole survivor of the original wave of migrants to this sugar town, her family say she is 106 years old.
Ruby arrived from Jamaica as a teenager and met her Antiguan husband here. They had nine children and "plenty" of grandchildren, as she says with a sudden smile.
Ruby has never been back home, but others have left Cuba over the years.
"Plenty Cubans in Jamaica now. All those here gone to Jamaica," she says, in now slightly broken English.
In an odd twist of fate, many of those returnees have become a vital source of financial support for relatives who have stayed in now Communist Cuba.
Several hundred people of West Indian descent live in Baragua but there are no official numbers either for the town or for Cuba as a whole, and the community's stories have not been recorded.
The English-speakers have applied for registration as an official association, hoping that will help in their fight to protect their traditions. But four years on they have had no answer.
Still, some practices have endured.
In the evening, the sound of fast drumming soars over the mill stacks as the West Indians gather nearby to rehearse a dance routine. They move around a maypole - just like at an English church fete - only here, the ribbon-threading routine is pretty raunchy.
The group has performed all over the island and abroad.
"Everything comes together here: the culture, the sport, the food - the customs brought by our ancestors," says Luis Nelson, a fruit worker who is leading the efforts to preserve their heritage.
"We want to form that association," Luis Nelson says. "We won't give up."