Brazilian police rescue hostages from failed robbery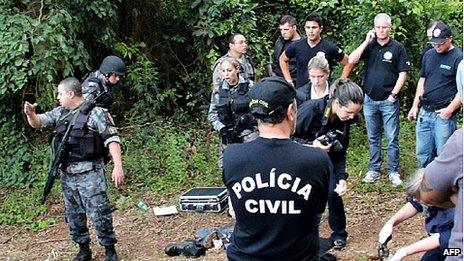 Police in southern Brazil say they have rescued nine hostages who had been taken by an armed gang following a failed attempt to rob a jewellery factory.
The announcement was celebrated by hundreds of people in the main square of the city of Cotipora.
It's not clear whether the fugitive gang members have been arrested.
The alleged leader of the gang, Elisandro Falcao, had earlier been killed in a shootout with police.
The Brazilian authorities say the gang had terrorised the region, using explosives to rob banks, cash point machines and shops.
"We have the nine victims. They are safe and well. God be praised!" police commander Juliano Andre Amaral wrote in his Twitter account.
They were found 5km (three miles) away from the location where they were abducted on Saturday night.
The heavily armed gang began its attempted heist in Cotipora at 02:00 local time (04:00 GMT) .
They had been under police surveillance for months.
Police said the robbers used dynamite to blow open the doors of the factory but were confronted by police as they made their escape.
Alleged gang leader Elisandro Falcao and two other men were killed in a shootout with police.
He was the most wanted man in Rio Grande do Sul state.
"There was an intense firefight. Three assailants died and two police were injured," an unnamed police official told reporters.
As they made their escape, the surviving attackers split into two groups. One abducted two people who were in a bar and the other broke into a home and took away seven people, including a child.
Police say they have recovered part of the loot, but gave no figure for its value.
Some 200 policemen took part in the chase chasing an armed gang that has taken nine hostages with them after a failed attempt to rob a jewellery factory.
Police officers say they have sealed off the forests and rural areas around Cotipora and are conducting a thorough search.
Other officers from an elite police force have been deployed in other cities across the state.
Cotipora is in the heart of Brazil's gem-cutting industry specialising in semi-precious stones such as topaz, aquamarine and amethyst.