Colombia: Nine bodies found in Envigado luxury house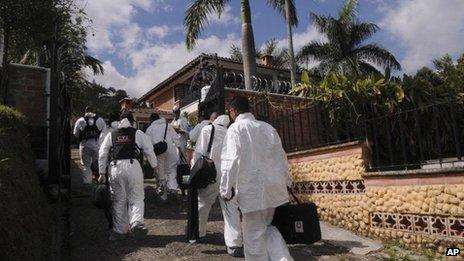 Police in Colombia have found the bodies of nine people inside a luxury house in the city of Envigado, on the outskirts of Medellin.
The nine victims, who haven't yet been identified, are believed to have been shot dead during a party on Sunday.
An $11,000 (£7,000) reward has been offered for information leading to the arrest of those responsible.
Medellin police commander Yesid Vasquez says he thinks the deaths were linked to the drug cartels that operate there.
"The victims were five men and four women. It looks like they were drug traffickers and were having a meeting," Mr Vasquez told RCN radio.
"It was a luxury house, and we've been informed its owner is among the fatalities."
A woman has survived and is being questioned by police, the AP news agency has reported.
This is the biggest massacre in Antioquia department in 2012.
The bodies were found in the morning by a cleaner who arrived at 07:30 local time.
She told police some of the bodies were lying in the living room and other common areas of the house. Others were in their beds.
Neighbours said all they heard through the night was the sound of loud music coming from the house.
"What else could it be but a clash between drug dealers?" said Mr Vasquez.
Envigado became notorious as the town where Pablo Escobar, the leader of the Medellin Cartel, grew up.
Escobar, probably the world's best-known drug lord, was killed in 1993.
Correspondents say drug money made the city, at one point, the wealthiest municipality in Colombia.