Rafael Correa to take leave for Ecuador re-election bid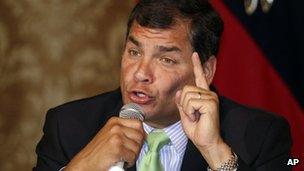 Ecuadorean President Rafael Correa has been granted a month's leave of absence to run for an unprecedented third term in the 17 February elections.
Mr Correa said he wanted to avoid concerns that he was benefiting from his position as incumbent.
Congress voted overwhelmingly to approve the leave, which takes effect on 15 January with Vice President Lenin Moreno standing in.
Critics said he would still benefit from state resources.
Opposition assembly woman Diana Atamaint told the Associated Press: "The official publicity will continue. Correa can use state resources and there will be no balance with respect to other political parties."
Campaigning for the elections, which will also see the vice-president and assembly members chosen, officially begins on Friday and ends 48 hours before polling day.
Mr Correa has been in power since 2007, ending years of political instability.
The constitution was amended in 2008, lifting the bar on a president standing more than once.
Mr Correa, a 49-year-old economist trained in the United States, has spent billions of dollars on social projects.
Critics say Ecuador's economy relies too much on oil revenues and remittances from Ecuadoreans working abroad.
They also accuse Mr Correa of hypocrisy, saying that he has attacked press freedom at home while championing freedom of speech abroad.
Last August, his government granted political asylum to WikiLeaks founder Julian Assange, who remains at the Ecuadorean embassy in London.
Mr Correa rejects such criticism and says Ecuador's conservative media has tried to undermine his social programmes.
He faces a divided and weakened opposition and is expected to win.
There are several other candidates, including former banker Guillermo Lasso, banana tycoon Alvaro Noboa, and ex-President Lucio Gutierrez.
Related Internet Links
The BBC is not responsible for the content of external sites.