World media consider life after Chavez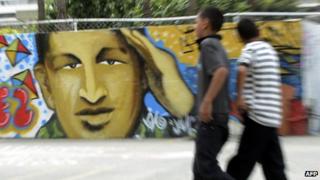 The declining health of Hugo Chavez has made headlines around the world as media commentators speculate on a future without Venezuela's firebrand leader.
Chavez has not been seen in public for three weeks after reportedly suffering complications while undergoing cancer surgery in Cuba.
Venezuela's state media have been airing regular tributes to the president, while the government says he remains in a "stable" but "delicate" condition.
But the country's main opposition movement has called on the government to be more candid about his condition.
Chavez is due to be sworn in for a new six-year term on 10 January.
South America
An editorial in the Colombian daily El Colombiano said that the Venezuelan government was already considering transition scenarios, due to the almost certain absence of Chavez - either due to death or "absolute incapacity".
Argentina's Clarin newspaper said that the decline of Chavez could herald a "change in the essence and quality of the movement - this magma of leftists, coarse populism and regional opportunists - which he has steered and led for over 14 years, based on dollars generated by oil."
It added that Chavez's much-preached "21st century Socialism, a kind of updated remake of the revolutionary dreams of the 60s and 70s, could never be more than welfare based on squandered oil revenue".
Meanwhile, the South American edition of the Wall Street Journal said that continued focus on the president's health had kept the Venezuelan government from addressing the "growing cracks in the economy". Chavez's successor should expect a "hard landing after taking over," the article said.
Rest of the world
Economic issues were also the concern of the China Daily, which said: ''Chavez's condition is also being watched closely by Latin American countries that have benefited from his generous assistance, as well as Wall Street investors who are drawn to Venezuela's lucrative and heavily traded bonds.''
The Spanish newspaper ABC said on 2 January that Chavez was scheduled to be taken off life support.
''Venezuelan officials say that Chavez is still alive, although they seem to be preparing the country for the news of the death of the Bolivarian leader," ABC said.
In Russia, Rossiya 1 TV said the Venezuelan authorities have denied that President Chavez was in a coma, as claimed by the Spanish media.
It provided detail about the leader's operation, which it said had been performed by a medical team brought in from Russia with the assistance of Cuban doctors.
Iran's Press TV website also carried reports which emphasised the official line that Chavez's condition was stable.
India's The Hindu noted that Venezuela's vast oil reserves meant that Chavez's state of health was world news, and that "nervousness and doubts" surrounded any uncertainty over his condition.
"Despite the upbeat portrayal of his medical condition, his supporters now realise he will not continue indefinitely. Even if Cuba's diligent medical system keeps him alive, his strength and capability to sustain his image… cannot be taken for granted. How long before the opposition - and its expatriate supporters - gather sufficient strength to put an end to his era?" the paper mused.
BBC Monitoring reports and analyses news from TV, radio, web and print media around the world. For more reports from BBC Monitoring, click here. You can follow BBC Monitoring on Twitter and Facebook.