Chile land owners killed in 'arson attack'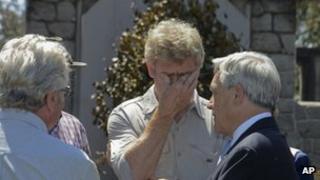 A Chilean landowner and his wife, who were involved in a land dispute with a local indigenous group, have been killed in a suspected arson attack.
Eyewitnesses said a group of masked men attacked the house of Bernard Luchsinger and Vivianne McKay, in the Araucania region which is at the centre of an indigenous land conflict.
Their charred bodies were later identified by relatives.
Interior Minster Andres Chadwick called the attack "a terrorist act".
"There has been a brutal assault on the home of the Luchsinger family... and we again witness a terrorist act, a grave attack on the lives of two people who've been symbols of the defence of their land," Mr Chadwick said.
Local media reported that pamphlets about the anniversary of the killing of a Mapuche Indian activist had been found at the scene of the crime.
The activist, Matias Catrileo, was shot dead by police while he was taking part in the occupation by Mapuche Indians of land belonging to Jorge Luchsinger, a cousin of Bernard Luchsinger.
'Seeds of terror'
Police Chief Ivan Bezmalinovic said one suspect had been arrested and was being treated for a bullet wound he is believed to have sustained during the attack on the house.
Local media said the suspect was a Mapuche Indian, but police have not given details of his identity.
No group has said that it carried out the attack.
Mr Chadwick said the attack was "not related to the Mapuche people as a whole, but to a very minor, very small group which engages in extreme measures".
But Conservative Senator Alberto Espina said it was not an isolated incident.
"This shows there is a group of very violent extremists, very well organised, which is spreading terror and panic in Araucania," he told a local radio station.
Last month, hooded men burned the house of another family in the area.
President Sebastian Pinera, who cleared Friday's agenda to travel to the region 700km (435 miles) south of the capital, Santiago, said 84 extra police officers would be deployed to the area to guarantee landowners' safety.
Araucania is at the centre of disputes between the Mapuche, who say that the area is their ancestral land, and large landowners and forestry companies who have titles to the land.