Hugo Chavez ceremony delay fuels Venezuela arguments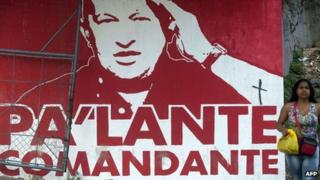 Venezuela is fast approaching unchartered waters with the ruling by the Supreme Court to postpone the inauguration of President Hugo Chavez to allow him more time to recover from cancer surgery in Cuba.
Never before has a Venezuelan president missed his swearing-in ceremony.
The court says the decision to allow the postponement is permitted by the constitution - specifically Article 231 which says that if for some reason the president cannot be sworn in before the National Assembly, the inauguration can take place in the Supreme Court.
Government ministers have also argued that President Chavez's swearing in for a fourth term of office is a mere formality, given that he was already the incumbent president.
They say any attempt to block Mr Chavez from continuing the presidency would be contrary to the will of the majority of Venezuelans who voted for him in elections in October.
The political opposition has also used the constitution in its argument, saying that the document stipulates the 10 January as the beginning of a new term of office. If Mr Chavez is not present on that date he should be declared temporarily absent.
They have been pushing for Diosdado Cabello, the head of the National Assembly, to take over as interim leader.
No snap poll
But it is Vice-President Nicolas Maduro who is nominally in charge of the government in Mr Chavez's absence - he was named by Hugo Chavez as his preferred successor before the president travelled to Cuba last month for more cancer surgery.
But vice-presidents in Venezuela are appointed, not elected, and so the opposition is arguing that once Mr Chavez's term ends, that of his vice-president does too.
The opposition had wanted to see Mr Chavez declared temporarily absent so a caretaker president could be installed.
But they have avoided talking of his permanent absence - that would trigger fresh elections within 30 days.
"They're trying to get Mr Chavez removed as quickly as possible but they also know that they don't have the resources right now to deal with a snap election," political analyst Carlos Romero told the BBC.
Were Mr Cabello to take over as an interim president it might also have the effect of driving a wedge between him and Nicolas Maduro and creating tensions with the United Socialist Party (PSUV).
The two men represent very different aspects of Mr Chavez's government. Diosdado Cabello has a military background and took part along with Mr Chavez in a failed coup attempt in 1992.
Absolute boss
Nicolas Maduro began his working life as a bus driver and studied union organising in Cuba before working his way through the ranks of the socialist party.
Throughout Mr Chavez's absence, they have shown a united front.
"Diosdado and I are united, brothers," Nicolas Maduro said last week. "We've sworn it in front of Comandante Chavez."
That unity will be tested over the next weeks as the future of both President Chavez and Venezuela remains uncertain.
"Every day that passes, the situation becomes more complicated and this absence, this doubt has a concrete effect on government," said journalist and political commentator Manuel Felipe Sierra.
"Chavez is not like other presidents, he's the boss of his revolutionary process and he has had almost absolute power."
Some analysts are asking how decisions over economic and social policies will be taken in his absence.
With no indication of how much longer President Chavez will stay in Cuba, predicting what will happen next in Venezuela has become an impossible task.