Hugo Chavez: Continuity or crisis as swearing-in delayed?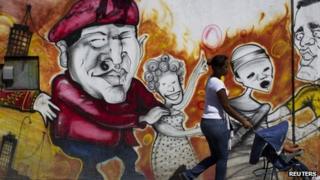 For President Hugo Chavez's supporters, 10 January was supposed to be a party, a celebration of his 14 years in power in Venezuela, with the promise of more to come. But the guest of honour will not be there.
Earlier this week, the Venezuelan government confirmed what many had long suspected: President Chavez is too ill to be sworn in to office.
He remains in Cuba, recovering from major cancer surgery and has not been seen in public for a month.
But in the pro-Chavez neighbourhood of San Agustin in Caracas, community leaders say it is business as usual.
"Chavez has always had the permission to (take time to) recover his health under the Bolivarian constitution," said radio presenter Eduardo "Mao" Lopez, on the government-funded community radio station, Radio Alameda.
As Mr Lopez was speaking, the Supreme Court announced its ruling that Mr Chavez could continue his convalescence in Havana indefinitely and be sworn in at a later date.
Mr Lopez and the guests on his show have been urging their neighbours to join them on the streets on Thursday in support of the socialist leader.
"We are all Chavez," he told his listeners emphatically.
"We're going to show the world that he's present. Physically he might not be here but emotionally he's in the workers, the teachers and the children on the march. We'll be tens of thousands strong saying: 'We are all Chavez'."
Adoration
One of those heeding their call is Leni Beatriz, whose home in San Agustin has its main wall adorned with a large poster of President Chavez.
Hugo Chavez is everything to her, she said.
"He's the father I never had," she says. "He's even like a husband. No-one else gave us a house but Chavez did."
It is that degree of adoration to Hugo Chavez that continues to divide Venezuelans.
As Mr Chavez's absence drags on and details about the exact state of his health are patchy at best, the opposition want him to be declared "temporarily absent" from power.
Opposition leaders say the government is riding rough-shod over the constitution.
"The constitution says the head of the parliament (National Assembly) should be the president in charge until we have a resolution," said lawmaker Julio Borges of the Justice First Party.
"That principle is in this constitution, and in the former constitution in Venezuela. But the government want to by-pass the constitution in order to solve the huge internal conflicts they have."
This refers to an alleged split within Chavismo between two key figures: Speaker of the National Assembly, Diosdado Cabello, and Vice-President Nicolas Maduro, who was named by Mr Chavez as his chosen successor before he left for Cuba.
The two men deny the suggestions of a fracture with the United Socialist Party of Venezuela (PSUV) saying such claims have been circulated by an opposition desperate to seize power.
"These rumours are media manipulations by interested groups," says one of the guests on the San Agustin community radio, director of a local music group, Noel Marquez.
"They're intended to sow division among Chavez supporters. This revolution isn't about individual men - Chavez, Maduro or Cabello. This is about the Venezuelan people."
Crisis or calm?
But for political analyst Luis Vicente Leon, there is serious constitutional issue at stake.
There is a "de facto" temporary absence of the President of the Republic, he argues, and Diosdado Cabello as head of the National Assembly should take Mr Chavez's place until such time as he can return.
"To be honest, the constitution in Venezuela is clear: if Chavez is not here on 10 January, he has to be substituted."
There can be no justifiable challenge to Mr Chavez's legitimacy, Mr Leon argues, as he was re-elected by an 11-point margin in the recent presidential election. Yet it is not a situation which can continue indefinitely, he says.
"He was elected by the people, and he's still the president-elect. But he's not in power because his last period has finished, and the new period is starting without him. He's not here taking care of the Venezuelan government, and he didn't go to the parliament or to the Supreme Court."
Some observers say this is a fully-blown constitutional crisis facing Venezuela, others even refer to a power vacuum. Meanwhile the pro-Chavez camp is saying nothing significant has changed.
Either way, most analysts agree that these are unprecedented times in Venezuela. Never before has a president failed to make his own inauguration in the country.
And it is creating uncertainty on both sides of the political divide.