Colombia Farc rebels end unilateral ceasefire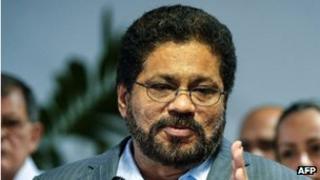 Colombia's Farc rebels have ended their two-month-long unilateral ceasefire.
The announcement came hours after President Juan Manuel Santos said security forces were ready for any possible resurgence.
Farc declared the truce as peace talks began in Cuba. The government refused to follow suit, arguing the rebels would use the opportunity to rearm.
The talks aim to end five decades of an armed conflict that has killed hundreds of thousands of people in Colombia.
'Pain in the heart'
"With pain in my heart, we have to admit that we return to the stage of war that nobody wants," Farc chief negotiator Ivan Marquez told reporters before going into a new session of talks with Colombian government representatives in the Cuban capital, Havana.
He also reiterated the rebels' offer of another ceasefire if the government was willing to enter into a bilateral truce,
"I want to take this opportunity once more to ask the government of Colombia to study the possibility of analysing a bilateral ceasefire and [an end to] hostilities so that we can surround these peace talks with an environment of peace," he said.
The Colombian government, however, has always made it clear that it will only stop military operations once a peace deal has been signed.
On Saturday, President Santos said the security forces were prepared, but warned the Farc (Revolutionary Armed Forces of Colombia) against resuming hostilities.
The president said committing acts of terrorism was relatively easy.
"You put a guy with a briefcase full of explosives next to a building, a bank, or a shop; that's very easy, but it's a sign of weakness," Mr Santos said.
Sticking points
Negotiators for the Farc declared the two-month unilateral truce in November.
The Colombian government says the final aim of the negotiations is to get the rebels to abandon their armed struggle and join the legal political process.
Over the past days, government and Farc negotiators have clashed over the issue of land reform.
While there is a shared belief on both sides that Colombia's huge inequality in land ownership needs to be tackled, they disagree on the way it should be carried out.
Farc has accused the government of fast-tracking laws on land ownership, which they say should not be passed until they have been agreed at the peace talks in Havana.
The rebels have demanded that 25 million hectares (62 million acres) of land, more than 20% of the country, be handed over to the country's poor.
Government negotiator Humberto de la Calle has not commented on the demands but has urged the rebels to speed up the negotiations.