Hugo Chavez joking and laughing, says Venezuela minister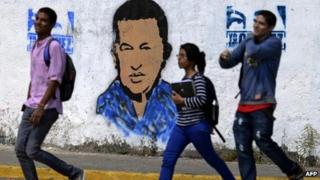 Hugo Chavez is joking and laughing again, a senior official has said - the latest positive comment about the health of the Venezuelan president.
Venezuelan Foreign Minister Elias Jaua was tweeting after meeting Mr Chavez in Cuba on Monday.
On Sunday, another Venezuelan official said the president was "gaining strength" following complications after cancer surgery on 11 December.
President Chavez has not been heard or seen in public since the surgery.
'Viva Chavez!'
"Comrades, I'm coming out of the meeting with our commander president, Hugo Chavez," Mr Jaua wrote.
"We shared jokes and laughed."
"Viva Chavez!" the twitter message added.
The foreign minister also said that Mr Chavez had given instructions over Venezuela's participation in a forthcoming Latin American Summit.
However, Mr Jaua declined to provide any further details about their meeting.
His comments came a day after Vice-President Nicolas Maduro said Mr Chavez had finished "the post-operative period".
Mr Maduro said the leader was entering a new phase of treatment, after having suffered respiratory complications following the operation.
He also said he was optimistic about the president soon returning to Venezuela.
Before leaving Venezuela for treatment in Cuba, President Chavez, who has been in office since 1999, named Mr Maduro as his choice to replace him should anything happen.
Last week, Mr Maduro stepped in for Mr Chavez and delivered the annual state of the union address in his stead.
The opposition has demanded clarity about who is running the country after the president missed his own inauguration for a fourth presidential term on 10 January.
The Venezuelan Supreme Court ruled that Mr Chavez could be sworn in at a later date.
But the opposition argues that in the continuing absence of President Chavez, the speaker of the National Assembly should take over and elections called within 30 days.