Brazil nightclub fire: Farmer unwittingly saves brother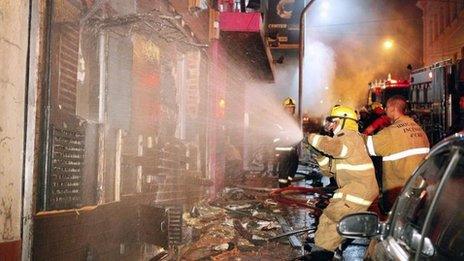 As Brazil tries to come to terms with the profound sense of loss after Sunday's deadly nightclub fire in the city of Santa Maria, remarkable individual stories are emerging from survivors.
One is about a 26-year-old farmer, Jovani Rosso, who was close to the stage in the Kiss nightclub, listening to a band, when the blaze started.
He told BBC Brasil that he had gone to the club along with several friends and his 20-year-old brother, Delvani.
Despite the acrid black smoke he managed to get out of the building.
Once outside, he could see that many people had not escaped. As the firemen were not yet in the building he decided to go back in to help.
He stripped off his shirt to help protect his face from the heavy smoke and borrowed a torch from police officers so that he could get a better view inside.
''There was a lot of smoke. I went in as far as I could - some 30m to 40m (100-130ft) at the most - and started pulling people out," he recalls.
"They were all lying on the floor. None of them were moving; some had their skin darkened, burnt."
The smoke prevented him from seeing exactly who he was saving.
Sometime later, looking at a video, he realised that one of those he had rescued was his younger brother, Delvani, who suffered burns to some 70% of his body and is currently among the 75 patients in a critical condition in hospital.
Their father, Jose Luiz Rosso, told BBC Brasil: ''His situation is highly critical. He is being medicated to see if he reacts so that we can transfer him to Porto Alegre".
While the police investigate the circumstances that caused the fire, Jose Luiz is critical about the fact that the venue was working with an expired safety permit. He also wants better security measures at entertainment facilities of any kind.
''Youngsters go in for a fun night out and it turns into a tragedy," he says.
"I ask that all mayors do their jobs. Nightclubs must follow rules. Otherwise, they should be prevented from operating.''
Deeply shaken, Jovani says he has not stopped to think about how his life will be after the disaster.
"But it will be different, after all the friends that I lost and with the prospect of losing my brother."