Brazil Santa Maria fire: tighter checks in Sao Paulo state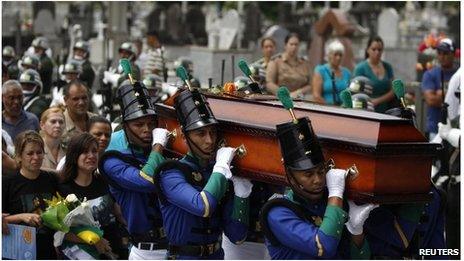 The governor of Brazil's most populous state, Sao Paulo, has ordered tighter inspections of all venues, including nightclubs, cinemas and theatres.
The measure follows a fire that killed 235 people at a nightclub in the southern city of Santa Maria on Sunday.
Meanwhile, more than 20 survivors who were thought to have escaped unharmed have been admitted to hospital.
Doctors say they are suffering from chemical pneumonia -- a respiratory disease caused by inhaling toxic fumes.
There are now 141 patients in various hospitals, of which more than 70 are in critical condition, authorities say.
The deadliest fire in Brazil for half a century has led to widespread calls for tighter legislation and controls for venues.
In Sao Paulo state, firefighters were due to launch a so-called Maximum Prevention operation on Wednesday evening.
The action was announced by the state's governor, Geraldo Alckmin, who said it would involve around 300 teams of firefighters.
The sweep is to target nightclubs with an area of more than 1,000 sq metres at first, but should gradually be broadened to all of Sao Paulo's night venues, such as cinemas, restaurants and theatres.
Meanwhile, the mayor of Sao Paulo city, Fernando Haddad, has announced he intends to make available online the licensing status of all the state capital's nightclubs.
On Tuesday, the police chief in Santa Maria, in the southern state of Rio Grande do Sul, said that the fire was caused by cheap fireworks meant for outdoor use.
Marcelo Arigony, who is also heading the investigation, said the band playing in the nightclub had chosen not to buy more expensive indoor flares.
Earlier, a court froze the assets of the owners of the Kiss nightclub and four people were arrested in connection with the disaster.
One of those detained is the co-owner of the nightclub.
A member of the band, Gurizada Fandangueira, blamed by Mr Arigony for starting the fire, has also been arrested.
Although the investigation seems to be moving quickly, legal experts believe it is likely to be some time before those responsible for the tragedy are brought to justice.
"Of course, all the evidence and clues will be in the police inquiry and in the prosecution's charges. But there are many players. The gathering of evidence cannot be hasty, otherwise, the judge might order a case review, which would delay the judgement," jurist Carlos Ari Sundfeld told BBC Brasil.
The fire has also prompted widespread domestic concern about Brazil's ability to host major sporting tournaments in the next four years.
The 2014 World Cup is set to be hosted in 12 Brazilian cities, while the 2016 Olympics are to take place in Rio de Janeiro.
Brazil's Congress is set to revise legislation in an attempt to strengthen safety regulations ahead of the World Cup.
Related Internet Links
The BBC is not responsible for the content of external sites.