Mexico blast victims' bodies handed over to families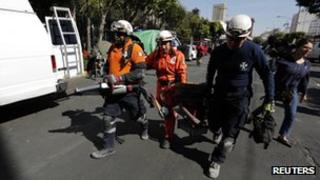 The bodies of the victims of a blast at the headquarters of Mexican oil company Pemex have been handed to their relatives.
Thirty-three people died in Thursday's explosion in Mexico City.
Hundreds of rescue workers continue to search the rubble for possible survivors.
Attorney General Jesus Murillo Karam said investigations into the cause of the blast were underway and no line of enquiry had been ruled out.
Rescue workers regained hope of finding people alive on Saturday after sniffer dogs alerted their handlers in the basement of the collapsed building.
Earlier, two families who believe their relatives could still be trapped, had asked the authorities not to give up on them after the Red Cross had declared its search finished.
The last person to be rescued from the debris was found at noon on Friday (1800 GMT).
Search for truth
Firefighters and police officers using heavy machinery continued to move rubble from the site of the blast as special investigators examined the site for clues to the cause of the explosion.
According to the attorney general, the government "is determined to find out the truth, be it what it may".
"If it's an accident, if it's negligence, if it's an attack, whatever it is," Mr Murillo Karam said.
Mr Murillo Karam said investigators had established that the blast had not set off a fire, but that it was not yet clear what that meant.
More than 100 people are being treated in hospital for injuries sustained as a result of the blast, Many of them were hit by falling rubble and masonry.
Mexican President Enrique Pena Nieto visited some of them on Friday. He has declared three days of mourning.
The BBC's Will Grant said the blast was the biggest explosion to hit Mexico City for 30 years.
Pemex said it would resume operations at its headquarters on Tuesday, moving employees who worked in the affected building to other offices.
The company has experienced a number of fatal accidents in recent years.
Last September, 30 people died in an explosion at a Pemex gas plant in northern Mexico, thought to have been caused by a build-up of gas.