Mexico vigilantes injure two tourists in Guerrero state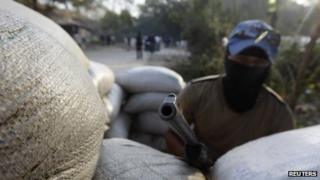 A group of vigilantes in the Mexican state of Guerrero has injured two tourists heading to the beach.
The masked men, who say they have taken up arms to protect residents against increasing drug-related violence in the area, were manning a roadblock when the pair approached in their car.
The couple from Mexico City said they were scared by the sight of the masked men and sped through the roadblock.
The vigilantes opened fire, lightly wounding the two.
Guerrero State Governor Angel Aguirre said he was reinforcing the police force so citizens would not feel the need to arm themselves.
'Imprudent'
State authorities also said they would offer the couple medical and psychological help.
The attorney-general's office of Guerrero has opened a criminal investigation into the incident.
Members of the so-called "community police" have been patrolling roads and towns across Guerrero.
In some cases, they have made citizen's arrests, parading the detainees and holding them in community halls until police arrived.
Bruno Placido, a member of one of the vigilante groups active in Guerrero, told local media the couple had acted "imprudently" when they had refused to stop at the roadblock.
The couple said they were headed to Playa Ventura, a beach town on the Pacific coast, to spend the weekend there.
Guerrero is one of the Mexican territories disputed by a number of powerful drug gangs.
Global intelligence analysts Stratfor say the Jalisco Nueva Generacion cartel has been expanding into the state and is fighting the Knights Templar cartel for control of the drug routes leading from the Pacific coast inland.
About 70,000 people are estimated to have died in drug-related violence in Mexico over the past six years.
President Enrique Pena Nieto has made the fight against organised crime one of his main priorities and has announced the creation of a new federal police force to help drive down murder rates.