Cuba dissident Gisela Delgado 'denied travel permission'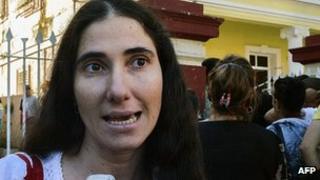 Cuban dissident Gisela Delgado says authorities have turned down her request to travel abroad.
It is the first known refusal since exit permits were abolished last month.
Ms Delgado, who wanted to visit family in the US, told the AFP news agency that she was turned down because of her "counter-revolutionary activities".
However, some government critics have been allowed to obtain passports and travel, including blogger Yoani Sanchez.
Ms Sanchez, who was repeatedly denied permission to go abroad, is planning a foreign trip later this month.
For many decades, Cubans had to go through a lengthy and expensive process to obtain an exit permit.
Under January's reforms, most Cubans now need only a passport and, where applicable, a visa for their intended destination.
However there are still some travel restrictions on people considered "vital" for the country.