Shorty Guzman's 'security chief' arrested in Mexico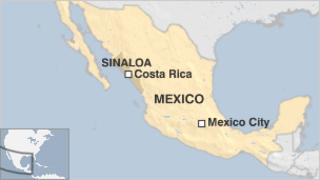 The Mexican military says it has captured the man accused of being the security chief for Joaquin "Shorty" Guzman, Mexico's most wanted drug lord.
A military spokesman said Jonathan Salas was arrested without a shot being fired in north-western Sinaloa state.
Three helicopters and at least eight navy vehicles surrounded Mr Salas.
Last year, the governor of Sinaloa mistakenly announced that Mr Salas, who is also known as The Ghost, had been killed in a clash with the Navy.
Mexican prosecutors accuse Mr Salas of being the man tasked with guarding Joaquin Guzman, the fugitive leader of the Sinaloa cartel.
Joaquin Guzman, known as "El Chapo", or "Shorty", was arrested in 1993.
But he has been in hiding ever since he escaped from his maximum-security prison in a laundry basket in 2001.
The US State Department has offered a reward of up to $5m (£3.2m) for information leading to Shorty Guzman's arrest.
Mr Salas was detained on Saturday near the town of Costa Rica in Sinaloa state.
Sinaloa Governor Mario Lopez Valdez has not commented yet on the arrest.
In March 2012 he had told local media that Mr Salas had been shot dead by Marines.
State prosecutors later denied Mr Salas's death saying that he had escaped the clash with the military alive.