Brazil's Marina Silva launches 'sustainability party'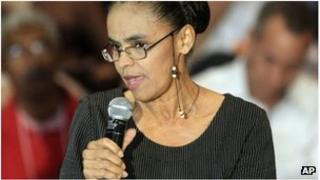 In Brazil, a former presidential candidate and environment minister has launched a new political party, Sustainability Network, ahead of next year's presidential elections.
In a speech to hundreds of supporters in the capital, Brasilia, Marina Silva stressed the party's green credentials.
According to Brazilian law, nearly 500,000 signatures are needed to officially register a party.
Ms Silva came third with nearly 20m votes in her 2010 presidential bid.
Launching the new party, Marina Silva ruled out taking either a pro or anti-government stance.
The former Amazon activist did not say whether she would run for president next year, although that is widely predicted.
It is expected that her allies will follow her into the new party, but so far no other major politician has announced that they intend to join.
Little is known about the overall political objectives of the network, apart from a firm commitment to the environment.
The new party is said to want to copy US President Barack Obama's funding model for his presidential campaigns, largely internet-based and geared towards individuals.
'Herd mentality'
Marina Silva also said she intended to break the "herd mentality" that most parties have.
Her career took off while she was in former President Luiz Inacio Lula da Silva's PT Worker's Party, who appointed her as environment minister in 2003.
During her five years as a minister, she reinforced her reputation as a tough advocate of the environment, which eventually made her ministerial position difficult.
Citing problems in carrying out her job, Ms Silva resigned in 2008, being replaced by the pragmatic environmentalist Carlos Minc.
Since her surprising success in 2010 as the Brazilian Green Party's presidential candidate, Marina Silva has watched her political influence grow, even though she left the party a year later.
In 2012, Marina Silva was personally invited to be the only Brazilian to carry the Olympic flag at the opening of the London Olympics, raising eyebrows within the Brazilian government.
After several years without membership of a party, she finally presented her Sustainability Network on Saturday.