'La Maestra' of Mexico faces her biggest challenge
By Will Grant
BBC News, Mexico City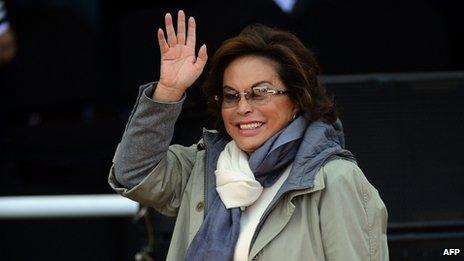 In front of thousands of members of her powerful teachers' union, the SNTE, earlier this month, "La Maestra" was in typically defiant mood.
In the face of growing national calls for her to step aside, Elba Esther Gordillo assured her followers that she would remain their "president for life" for as long as they wanted, saying: "My epitaph will read 'Here lies a warrior, and as a warrior she died.'"
But now, barely three weeks later, she is facing the biggest challenge yet to her more than two-decades-long reign at the top of Mexican politics.
Currently imprisoned at the women's jail at Santa Martha Acatitla in Mexico City, she has been arrested on charges of embezzlement of more than $200m (£132m) and of having used the union's funds to finance her lavish lifestyle.
Mexico's Attorney General, Jesus Murillo Karam, took journalists through a complicated diagram which he said showed how the union's funds had been channelled through Ms Gordillo's personal accounts to pay for plastic surgery, a luxury home in San Diego and to settle million-dollar accounts with the high-end fashion store, Neiman Marcus.
Certainly La Maestra (the Schoolteacher) has never hidden her personal wealth. Asked about it in a recent interview, she pithily answered: "My money comes from my sweat, I didn't steal it."
Many critics have questioned how Ms Gordillo could possibly afford such a luxurious lifestyle on a teacher's salary.
But despite numerous accusations of corruption in the past, nothing has ever been proved against the union leader and she has always denied any wrongdoing.
It may seem strange to non-Mexicans how the leader of a teachers' union could be so influential in national politics.
In part, it has to do with the union itself. The SNTE has an estimated 1.4 million members. That alone represents a significant bloc of votes which, if put to work backing a candidate in a tight election, can make the difference between winning and losing.
Such was the case in 2006, when Ms Gordillo put her weight behind future President Felipe Calderon.
He won the presidency by just 0.56% of the vote, in the closest presidential race in recent memory. As such, La Maestra and her union can be viewed as kingmakers in Mexico.
It has not just been in national votes either. On a local and state level, the teachers' union has wielded huge power and influence over the results.
In the pervasive quid pro quo of Mexican politics, her union and its political offshoots often received benefits, in terms of funding and political appointments, from backing the winning candidate.
The other reason Ms Gordillo has been so instrumental to political life in Mexico is down to her self-coined "warrior" persona.
She was born into poverty in the southern state of Chiapas in 1945.
Tenacious, pragmatic and determined, Ms Gordillo began her union activities in the state of Mexico in the early 1970s, eventually becoming the protege of local union leader, Carlos Jonguitud Barrios.
As he rose up the ranks to the top of the SNTE, she rose with him.
When Mr Jonguitud was sacked as union head by the then president, Carlos Salinas de Gortari, in 1989, Ms Gordillo took over the top job.
Her mixture of deep ambition and ruthlessness when it comes to her union members' interests has won her admiration in some quarters, but powerful enemies too.
There will be no lack of people, some very high up in government, who will be rubbing their hands at the prospect of seeing La Maestra behind bars.
But it is the timing of her arrest which is perhaps most significant.
President Enrique Pena Nieto has been in office for barely three months. In that time he has managed to push through a sweeping education reform intended to tackle some of the outdated and corrupt practices which have held back Mexican education for decades.
Mexico's education system is currently ranked last out of the OECD nations. It is not a problem of funding, as education accounts for around 22% of Mexico's public non-capital spending. However, some 80% of that goes on teachers' salaries.
And there are some very dubious practices at work in Mexico's schools. There are examples of teachers receiving wages at schools that have long been closed down, deceased teachers still on the books, teachers selling on their jobs for a good price.
Worse still, many of the teachers who do actually give lessons to the children are very poorly educated themselves.
Some only have a high school diploma, and not one has ever been internally assessed on their teaching abilities.
The Education Reform is intended to impose regular assessments of teachers in the coming years, something the SNTE was reluctant to support.
Some see echoes with the early days of the Institutional Revolutionary Party (PRI) government of Carlos Salinas, when the union leader for the energy company Pemex, Joaquin Hernandez Galicia, was arrested after threatening strikes over privatisation plans.
Many believe the arrest of Elba Esther Gordillo is part of a similar effort to remove the obstacles to reform.