Mexico union replaces Elba Esther Gordillo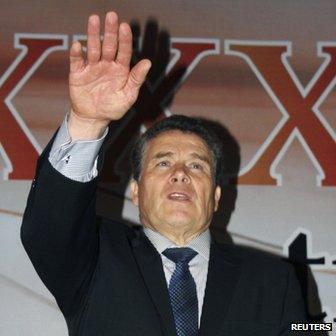 The SNTE teachers' union in Mexico has picked a new leader after previous head Elba Esther Gordillo was charged on Wednesday with fraud.
Juan Diaz de la Torre was appointed at an extraordinary congress of the SNTE, the most powerful union in the country.
The BBC's Will Grant in Mexico City says that his selection in effect strips Ms Gordillo of her title of president-for-life.
She will now have to face the charges without SNTE backing.
The woman known as "La Maestra" or "the teacher" reportedly spent millions at a US department store, on plastic surgery, property and a private plane. She had led the SNTE since 1989.
Her arrest came a day after the enactment of major educational reforms designed to change Mexico's union-dominated system, under which teaching positions could be inherited, and which had led to posts being sold.
Under the changes, teachers will have to undergo regular assessments, something that has previously never taken place inside Mexico's primary and secondary schools.
Correspondents say that following her arrest she had not only been abandoned by her union, but also by The National Alliance Party she helped to create.
Mr Diaz told the SNTE congress in Guadalajara that the way his union had been sidelined over the recent education reforms was a crime.
But he stressed that the union would not be going on strike nor causing civil disruption over the arrest of Ms Gordillo.
Analysts say the decision to name Mr Diaz as Ms Gordillo's successor so soon after she was arrested sends a clear message that she will face the charges against her on her own.
However the union is divided into factions and many expect to see a power struggle as union barons jostle for control.
Ms Gordillo, 68, was once considered the most powerful woman in Mexico.
Prosecutors allege that she engaged in "systematic embezzlement" of up to $200m, using union money to fund her lavish lifestyle.
They argue she would not have been able to make those purchases on her salary.
In a brief court appearance on Wednesday, Ms Gordillo denied the charges.
Related Internet Links
The BBC is not responsible for the content of external sites.