Colombia's Medellin named 'most innovative city'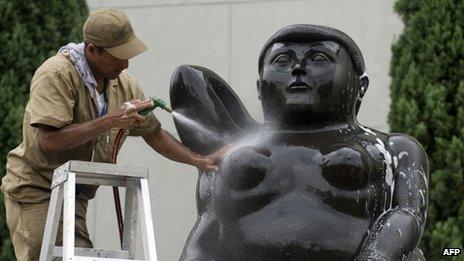 Medellin, in Colombia, has been named the world's most innovative city in a competition organised by the non-profit Urban Land Institute.
Medellin, once known for being the stronghold of the Medellin drugs cartel, beat Tel Aviv and New York.
The institute said Medellin had excelled in increasing the mobility of citizens living in poor communities.
The city has an efficient metro and cable car system, which allows people to access the city centre easily.
The Urban Land Institute compiled a list of 200 cities based on eight criteria ranging from culture and liveability to education and infrastructure.
People were then asked to vote online for their top candidates.
The Urban Land Institute said Medellin had seen one of the most remarkable urban turnarounds in modern history.
It praised its civic spaces, libraries, and art galleries, as well as its infrastructure which includes a giant escalator and a cable car allowing the residents of the poor neighbourhoods on Medellin's steep hillside to easily commute to the city centre, in the valley.
Medellin's mayor Anibal Gaviria said the award was "a reason for joy on the part of every one of the 2.5 million inhabitants of our city."
He also commended former mayor Sergio Fajardo for launching many of the projects which were praised in the competition.
However, Medellin has not been able to cast off its violent past entirely.
In December, the bodies of nine people were found at a luxury home on the outskirts of the city.
Police believe they fell victim to a settling of scores within a powerful Medellin-based criminal gang, many of whose members had originally worked for the Medellin drugs cartel.
Related Internet Links
The BBC is not responsible for the content of external sites.