Venezuela on edge over Hugo Chavez health rumours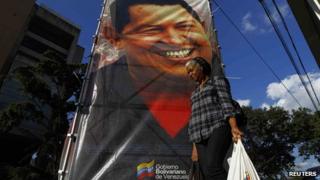 He may have not seen or heard from his country's president for almost three months, but Efrain Perez is sure that Hugo Chavez is recovering.
Like many other Venezuelans, Mr Perez took the announcement of the president's return to Venezuela last week as a sign of his improvement.
"He is better. The simple fact that he could get on and off a plane means that he is better," Mr Perez said.
While rumours of Mr Chavez's health worsening intensify, the president's image remains strong.
Opposition moves
The state-run television channel broadcasts stock images of the smiling president all day long, while Vice-President Nicolas Maduro assures Venezuelans that the president is still in charge, governing from his bed at a military hospital in Caracas.
Most Venezuelans, like Mr Perez, seem to accept this.
According to a recent opinion poll, 57% of citizens (most of whom are Chavez supporters, or "Chavistas") believe that their president will get better, but 30% think he will not return to office.
While Venezuelans wait to see what happens to their president, political players are already making their moves, should a snap election be called soon.
According to the constitution, elections must be held within 30 days if there is an "absolute absence" of the president.
Preferred successor
Mr Maduro has stepped in to fill the media void left by Mr Chavez, who is known for his long, televised speeches.
Echoing the president's style, this week Mr Maduro spoke to students and beneficiaries of a government housing scheme at public meetings, while lambasting the opposition.
Before leaving for Cuba for a new cancer treatment, Mr Chavez said Mr Maduro was his preferred successor, were anything to happen to him.
At the same time, a myriad of opposition parties are in talks to pick one leader to represent them. Henrique Capriles, who lost to Mr Chavez during last October's election, is the most likely candidate.
"Maduro has repeatedly fooled the followers of the president and all Venezuelans about the real condition of the president," Mr Capriles said on Twitter on Friday.
The government has in turn accused the opposition of using "psychological warfare" to confuse the public, and has asked opposition leaders to tone down their declarations.
"He is in military hospital, serene, with his doctors, with his family," said Jorge Arreaza, the minister of science, who is also the president's son-in-law.
"He is fighting, he is trying hard," he said.
Death rumours
Rumours about Mr Chavez's health intensified this week after an interview with Guillermo Cochez, the former Panama ambassador to the Organization of American States (OAS).
Mr Cochez, who is a vocal opponent of Mr Chavez's policies, said the Venezuelan president had died, after being in a vegetative state since December.
Panama's government fired Mr Cochez in January after he made controversial declarations on Venezuela.
Mr Chavez has been in power since 1999 and he won his fourth term in office in October, defeating Mr Capriles by 11 points.
After 14 years in power, he remains extremely popular. His image can be seen everywhere, leaving unanswered questions about what could happen if he were to step down or die.
"If Chavez were to pass away, I expect there would be a really emotional reaction and support would transfer to Maduro," says David Smilde, senior fellow at the Washington Office on Latin America, who has researched Venezuela for 20 years.
"These are not just irrational emotions. People are emotional because they feel that Chavez has supported them when they needed him," he said. "In Venezuela people tend to think that Chavez did right by them."
A polling agency closely aligned to the government released a poll this week showing that should there be an election, Mr Maduro has 50% of the support, 14 points ahead of Mr Capriles on 36%.
While everybody watches and waits, and politicians get ready for a possible election, what is certain is that Venezuela's future depends on Mr Chavez's health.