Venezuela probes killing of Sabino Romero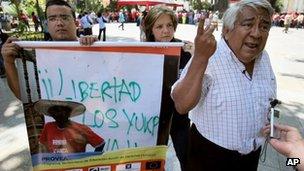 Venezuelan authorities are investigating the killing of indigenous leader, Sabino Romero, a well-known campaigner for the return of ancestral land to the Yukpa tribe.
Mr Romero was shot dead on Sunday when two gunmen on a motorcycle opened fire on his vehicle on a motorway.
Mr Romero had earlier asked for police protection.
Video footage showed the leader saying that land owners had hired gangsters and put a bounty on his life.
"As I understand it, they paid 100,000 bolivars (more than $15,000) in Zulia, and here in Caracas they paid more money to come for me," he says on the video, shown on Venezuelan TV.
No-one has yet been arrested.
Minister of Information Ernesto Villegas said initial investigations confirmed a link between the killing and the struggle for land rights.
"This [killing] puts the fight for just land distribution on the table," Mr Villegas told Venezuelan newspaper El Universal.
However Mr Romero's son, Sabino Irraga, told local media that his father had also been threatened by another indigenous leader.
"This leader opposed our community voting for any another candidate but him, so he threatened his life," he told reporters.
Sabino Romero was reportedly stopped by two masked men on the El Tukuko motorway in the western state of Zulia.
The gunmen fired repeatedly at Mr Romero.
Mr Romero's wife, Lucia Martinez de Romero, is said to have suffered light wounds.
Mr Romero fought for the demarcation of Yukpa lands in the Perija mountains, near the border with Colombia.
He was frequently at odds with land owners who occupied the area some years ago.
The land is also frequently taken over by illegal miners and coca growers.
In 2011, the government signed off more than 15,000 hectares (nearly 4,000 acres) for the Yukpa.