How Argentines feel about the Falkland Islands dispute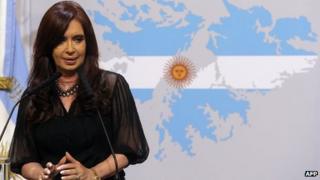 A group of 20-somethings dance and wave in unison as the singer from La Murga, one of Buenos Aires' favourite rock bands, belts out lyrics to a crowded night club.
Claudio Diaz is singing about the day Argentina invaded The Falkland Islands - 2 April 1982. It is a song about death, heroism and national pride - and the audience love it.
Most of them were not actually born when the incursion and subsequent conflict - in which 255 UK servicemen, three Falklands civilians and 649 Argentines died - took place.
So I arranged to meet some of them the next day in a local park to find out what Las Malvinas, as the islands are called in Argentina, mean to those born well after the war.
"When we are very young, we are told about them at school," 25-year-old Julia says. "We know that the islands are ours."
"Children are brainwashed," says 30-year-old Federico, "they are taught about the islands before they are old enough to understand."
But his contemporary, Jeremias, responds angrily to this notion saying: "I was not brainwashed. I know that Las Malvinas are Argentine, for two reasons - historical and geographical."
However, a look at the ancient maps stored in the archive drawers at the National Library of Buenos Aires reveal that the situation is more complicated than that.
Over the past 400 years, the Falkland Islands have been variously claimed by the Dutch, the French, the Spanish, the Argentines and the British.
"It can depend on who is drawing the map," says Professor Maria Etchepareborda, as she indicates how British Guyana and The Falkland Islands are two smudges of British Imperial pink on a 19th Century British Admiralty map of South America.
Prof Etchepareborda herself, however, is in no doubt as to who she thinks has the true claim. "The Malvinas are, of course, Argentine," she adds with a charming smile.
Few in Argentina seem to disagree with that point of view, and the islands and their future have been the country's number one foreign policy issue for more than half a century.
Strained relations
"It is part of our national identity," says Dr Jorge Castro of the Institute of Strategic Studies, "and the only thing that unites this divided country".
In January 2013, Argentina's current president, Cristina Fernandez de Kirchner, fired a new salvo in the long-running sovereignty dispute when she issued an open letter to UK Prime Minister David Cameron. It was published as an advert in British newspapers the Guardian and the Independent, claiming that the islands had been stolen by Britain and that she wanted them back.
She said the islands had been forcibly stripped from Argentina in "a blatant exercise of 19th Century colonialism" and accused Britain of defying a United Nations resolution by not holding negotiations on the handover of sovereignty to Argentina.
Mr Cameron has since said that Britain would go to war again over the Falklands if necessary and relations between the two countries are at their lowest since 1982.
For their part, the Falkland Islands' government responded to Ms Fernandez' letter with a statement saying: "We are not a colony - our relationship with the United Kingdom is by choice."
And to drive the point home, they decided to hold a referendum on 10-11 March 2013 in which islanders will be asked whether they wish to continue as a British Overseas Territory.
However, the Argentine government thinks that the islanders should have no voice in two-way discussions between Britain and Argentina over the future of the islands.
When I ask Senator Daniel Filmus, a member of the government committee on Las Malvinas, about the referendum he turns on me angrily:
"Let me ask you a question", he says. "Are the people living there British? What is the point of asking these people if they want to be British? It is like asking an Argentine if he wants to be Argentine! It's a waste of time.
"Are we really going to believe that it is self-determination that you care about and not the oil, the military importance of the South Atlantic and the claims on Antarctica?"
There is no doubt that the wealth contained in the seas surrounding the Falklands opens a new dimension in the long-running debate.
There were strong commercial links between the islands and Argentina before the Peronist government headed by Ms Fernandez' late husband, former President Nestor Kirchner, gained power in 2003.
Ailing economy
But both Mr Kirchner, and now his wife, who succeeded him as president in 2007, refuse to deal with an authority they will not recognise and those links have been cut.
Premier Oil is just one of the companies about to pump oil out of the South Atlantic and there could be huge opportunities for service industries based in Argentina, just 500 miles (800km) away.
The refusal to work with the Falkland Islands could leave Argentina in danger of missing out on such rewards.
"This is a very intelligent, economic logic," Dr Castro says when I put that point to him, "but this is a political problem. We have here a political conflict and for Argentina the Malvinas is not economic, it is political."
Despite all the disputes over the islands, historians are agreed that the fateful decision to invade in 1982 made by Argentina's then-leader General Leopoldo Galtieri was an attempt to gain popular support for a military dictatorship that, by the early 1980s, was morally and economically bankrupt.
And the Argentine economy is in trouble again today.
The sight of the unemployed scavenging through rubbish to sell on to recycling companies is a common one. Price freezes have so far failed to stop an inflation rate believed to be nearly 30%. And strikes and demonstrations are frequent.
This week teachers have been demonstrating in Buenos Aires calling for pay rises to match inflation.
I ask the demonstrators whether this new row with Britain over the Falklands is a deliberate tactic by Ms Fernandez to divert attention from the country's current economic woes.
"No, I can honestly say, no," responds Cristina Lavagna, a secondary school teacher and mother of two. "She has her own policy on the Malvinas, and economic issues are a separate issue in Argentine life."
Another teacher, Juan Nandez, adds: "She's always talking about the Malvinas. It's a historical thing. Whether they are British or Argentine, there's never going to be any advantage for the working classes. Nonetheless, her claim is right. The Malvinas are Argentine."
It is true that the huge wealth being generated just a few hundred miles away could provide the shot-in-the-arm much needed by the ailing Argentine economy.
But, as the lyrics in La Murga's song April 2nd say, "pride and honour are everything".