Venezuela's Chavez in 'most difficult hours' - Maduro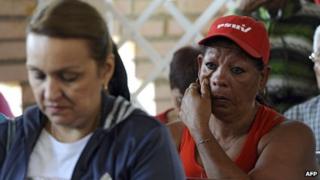 Venezuela's President Hugo Chavez is undergoing his "most difficult hours", his deputy has said.
Nicolas Maduro spoke at length in a speech apparently designed to reassure citizens despite the failing health of Venezuela's leader.
He accused the US of plotting against the Venezuelan government: Two US military attaches have been expelled.
On Monday, officials said the 58-year-old Venezuelan leader had a new, severe respiratory infection.
Dozens of people gathered to pray for his health at the hospital where Mr Chavez is being treated.
He has not appeared in public since he returned to Venezuela last month after being treated for cancer in Cuba.
'Attack' on president
The address, broadcast live on TV from the presidential Miraflores Palace, showed Mr Maduro surrounded by political and military leaders in a display of solidarity.
He accused "enemies of the fatherland" in Venezuela and abroad, particularly the United States, of seeking to undermine democracy in Venezuela.
Speaking in a room full of dignitaries including the defence minister and the president's brother, Adan Chavez, Mr Maduro said Mr Chavez's illness was an "attack" by his enemies and called for this to be investigated.
He said one US Air Force attache, David Delmonico, had been spying on Venezuela's military and had 24 hours to leave the country.
Venezuela's foreign minister, Elias Jaua, later announced the expulsion of a second US Air Force attache, Devlin Kosta.
US Department of Defense spokesman Lt Col Todd Breasseale later confirmed Col Delmonico was "en route back to the United States".
"We completely reject the Venezuelan government's claim that the United States is involved in any type of conspiracy to destabilize Venezuela government.," said Lt Col Breasseale.
"Further, we absolutely reject the specific allegations leveled by the Venezuelan government against Air Attache David Delmonaco and Assistant Air Attache Devlin Kostal."
Col Breasseale confirmed Assistant Air Attache Devlin Costal, who is currently in the US, would not return to Venezuela.
In recent days, the opposition have condemned what they say is the lack of clarity surrounding Mr Chavez's condition.
"The lack of precise information worries Venezuelans and fuels rumours," said Ramon Guillermo Aveledo of the opposition Democratic Unity coalition.
At the weekend, hundreds of Venezuelan students and opposition members marched in Caracas demanding full details about Mr Chavez's health.
Information Minister Ernesto Villegas accused Mr Chavez's opponents of showing "the same hatred that they have shown towards Chavez all these years.
"It annoys them that he won't give up and neither will the people!," he wrote on his Twitter account.
On Monday Mr Villegas announced from the military hospital where Mr Chavez is being treated that he had suffered "a worsening of respiratory function" and that his condition continued to be "very delicate".
He said Mr Chavez was undergoing "intensive chemotherapy, as well as complementary treatments".
"The commander-president remains clinging to Christ and to life, conscious of the difficulties that he is facing, and complying strictly with the programme designed by his medical team," Mr Villegas said.
Mr Chavez, who has been in office for 14 years, is believed to have cancer in his pelvic area, but his exact illness has never been disclosed.
He announced in June 2011 that he had cancer and has undergone four operations since then, as well as chemotherapy and radiation therapy.
The president was re-elected for another six-year term in October 2012, but the Supreme Court ruled that his swearing-in on 10 January could be delayed because of his illness.
He is said to be taking decisions about the country from the hospital bed but there have been mixed messages from officials on his condition.