Grief and apprehension grip Venezuela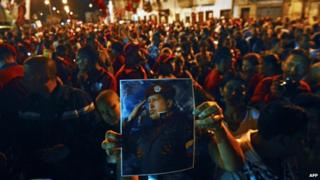 The news did not come as a surprise. It followed the government's stark warnings on Monday night that the president's health was sharply deteriorating.
But the disclosure of Hugo Chavez's death was an emotional moment for the whole country, marking the end of a 14-year rule by one of the most controversial leaders in Latin America.
Fighting back tears, Vice-President Nicolas Maduro made the announcement in the afternoon. Slowly hundreds of supporters gathered near the hospital where the president had died, and in downtown Caracas, coming together to mourn the president.
Many had tears in their eyes. Some hugged each other. Most gathered sombrely to share their memories of "El Comandante".
For many, it was like having lost a family member.
"A great leader has left us, a father. A man that taught us how to walk down the path of revolution," said student Ali Dominguez in Plaza Bolivar, named after the South American revolutionary who inspired much of Mr Chavez's ideology.
"This sadness you see today in this square in Caracas reflects this."
'Everyone affected'
Wearing red shirts with the image of the president, many chanted, "We are all Chavez," and "Chavez lives."
"This loss will affect everyone in Venezuela. Even the opposition was marked by the presence of Hugo Chavez," said Remigio Pinate, another follower in Plaza Bolivar.
"No president before had done something like Mr Chavez did during his 14 years in power. He gave the people free education, housing, health... something we were not used to seeing in this country," said Mr Pinate.
Earlier in the day, people had been gathering in a chapel in the military hospital to pray for the president's health. Some women had tears in their eyes as they said they could not imagine a country without Mr Chavez.
During the night, small incidents took place. Outside the military hospital, an angry crowd hit a reporter and a cameraman from a private TV station from Colombia.
In Plaza Bolivar, people chased after a person they said was a reporter from Globovision, an anti-Chavez TV station who was the object of many of Mr Chavez's criticism.
"A hurt people is a dangerous people," said Mr Pinate. "We need to maintain respect and order."
Not everyone was out to mourn.
As the news was announced, some launched fireworks to mark the death of the man they accuse of wrecking the country. They saw Hugo Chavez as an authoritarian figure and whilst that view might come from a minority, it is present nonetheless.
In the wealthier Los Palos Grandes neighbourhood, where many identify with the opposition, by the early evening the streets were deserted.
People took to Twitter to express their sentiments.
"I'm not celebrating at all, I just feel we have a new opportunity to have a better future," said Sharon Fandino.
They may have loved him or hated him, but Mr Chavez's death opens a new phase for this country, a phase with a lot of unknowns.