World media examine Chavez legacy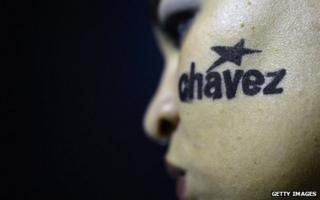 Venezuelan President Hugo Chavez's death tops news across the world, featuring prominently in global media.
The media are looking back on the life of the charismatic and controversial leader, carrying picture galleries of Mr Chavez, as well as quotes from him and those who knew him.
Some see him as not only an inspirational leader of Venezuelans, but also an icon for many across the globe. Others, however, criticise him for his confrontational policies and ties with authoritarian regimes.
'History is just beginning'
In Venezuela itself, state-run Venezolana de Television leads tributes to President Chavez. "Here we are Hugo, more than ever, more than ever with you today, Hugo Chavez, a good man, a man of the fatherland, an infinite man who gave us the dream, the poetry and the hope to take back Venezuela's sovereignty and dignity," state TV chairman William Castillo writes on its website.
Pro-opposition daily El Universal, however, has a dim view of Mr Chavez's legacy, saying that his "polarising, sectarian and aggressive governance against dissidents virtually split the country down the middle".
The paper hopes that the demise of Mr Chavez will mark the beginning of a new era for Venezuela. "People's maturity during changes and turbulence permitting, perhaps this opportunity can be seized to resume necessary and feasible plans and projects aimed towards a new horizon, with renewed hopes and a consensus generating peace and progress," the paper's website says, concluding: "History is just beginning."
Private newspaper El Nacional calls for calm and reconciliation. "This is a time for reflection," it says. "This should be a moment of solidarity and tolerance. A moment for peace and co-existence. We should each and every one, without exception, take care so that this peace translates into a permanent state of reunion and reconciliation."
A front-page article in the Cuban Communist Party's newspaper, Granma, speaks of "deep and lacerating pain" following President Chavez's death. "We will always remember him as a patriotic soldier in the service of Venezuela and the Greater Fatherland," Granma says, calling Mr Chavez "a reincarnation of Bolivar" - the famous South American revolutionary.
Elsewhere in the region, newspapers also note the divisive nature of his legacy.
"Adored by his followers in an almost religious way, Chavez was reviled by his critics who saw him as an autocratic head of state," says Mexico's Excelsior.
Argentina's Clarin, meanwhile, describes him as "one of the most controversial leaders of South America and the head of a presidential government which was almost monarchical".
La Republica, in Peru, also notes that Chavez "divided the country" and also points out that he sent a million barrels of oil a day to the US, despite seeing it as the arch-enemy.
Brazil's Jornal do Brasil reports that President Dilma Roussef said Chavez's death "should fill all Latin Americans with sadness. Sometimes, the Brazilian government did not agree with him, but today we recognise him as a great leader who will leave a gap".
'Loved and hated'
The news of President Chavez's death tops news bulletins in Russia.
Official Rossiya 1 TV calls Mr Chavez "one of the world's most striking politicians".
"He was loved and hated, but he did not leave anybody indifferent," the TV says. "Chavez was building 21st Century socialism in Venezuela, a society of justice and equality, he pursued a policy of supporting the poor and was a fervent critic of the USA's policy. Chavez has clearly left a huge mark on the life of not only his country but the whole of Latin America."
For state-controlled Channel One TV, Hugo Chavez was "an outstanding leader, a charismatic and versatile personality... the last romantic revolutionary, whose death marks an end of an era."
Gazprom-owned NTV calls Chavez "the most charismatic leader in Latin America". It continues: "His name stands for political changes not only in his native country but a turn to the left in the whole of Latin America. A fervent anti-American, who built his foreign policy on confrontation with the capitalist West, an inspired public speaker, capable of literally hypnotising audiences with his speeches."
Privately-owned Ren TV notes that Chavez died on 5 March, the same day as Soviet leader Joseph Stalin 60 years previously. Comparing Mr Chavez to Cuban revolutionary Fidel Castro, Ren TVsays: "For Russians, he was similar to what Fidel Castro was for the Soviet people, only Chavez was a comandante of the 21st Century."
The website of pro-government tabloid Komsomolskaya Pravda features a photo of Chavez prominently on its homepage, captioned: "Comandante, wherever you are, thank you, a thousand thank-yous from this nation..."
The article notes that "while people mourn Chavez's loss on both sides of the ocean, American politicians are not hiding their glee. Only Barack Obama's statement looks neutral."
In Belarus, whose leader Alexander Lukashenko was on particularly friendly terms with Chavez, state TV and radio highlight Venezuelan "grief" after Chavez's death. "It is a tragedy for Venezuela and the whole world," Belarus 24 TV says.
'Anti-imperialist'
President Chavez's death is top news in Iran, too. Most of the media focus on the announcement of his death by a tearful Vice-President Nicolas Maduro, with English-language Press TV quoting him as saying that "Chavez was given cancer by enemies".
For the TV channel, "his anti-imperialist policies led him to implement social reforms for the sake of the Venezuelan nation".
State-run Islamic Republic of Iran News Network TV also points out that he was "a stubborn enemy of American imperialism in Latin America."
Iranian news agency Mehr is concerned with what follows Mr Chavez's death, saying that it "raises serious questions about future of oil-rich Latin American power".
'Great loss'
Chinese media give a high profile to President Chavez's death, praising his contribution to the development of bilateral ties.
A commentary on the China Radio International website terms Hugo Chavez's death "undoubtedly a loss for the development of Venezuela itself, Latin America and even the international community".
Official news agency Xinhua agrees, hoping that despite President Chavez's death Venezuela will still manage to avoid a "big turmoil".
State-run China News Service, the country's second-biggest news agency, notes that "Chavez was friendly towards China and visited China many times during his lifetime". It also warns that "Venezuela may shift from great sorrow to great anger" directed against Hugo Chavez's arch foe, the US.
Renmin Wang, the Chinese Communist Party's news website, is also upbeat about Mr Chavez's contribution to developing ties with China, and notes that he "could even use simple Chinese to greet Chinese friends".
'Loser accustomed to winning'
In Israel, left-of-centre Ha'aretz says that Chavez's foreign policy was "one big provocation".
"In our region he severed diplomatic relations with Israel and granted groups linked to Hezbollah and Tehran the possibility of establishing bases of training and communication in Venezuela," a commentator in Ha'aretz argues.
Some views in Europe are equally critical of Mr Chavez.
"A loser who became too accustomed to winning. He came onto the world stage via the prison door. Hugo Chavez was shaped above all by his defeats - to the point of megalomania. But it wasn't his opponents in Washington or Caracas who defeated him - it was cancer," says an article in Germany's Der Tagesspiegel.
"Hugo Chavez was a socialist out of conviction and leaves a divided country behind. His greatest weakness was choosing the wrong friends, Ahmadinejad, Lukashenko and Syria's dictator Assad. What counted was that they were anti-American," the article says.
'Firebrand'
"Firebrand", "egotistical", "autocratic" and "a flamboyant emblem of anti-Americanism" are just some of the labels which the UK papers attach to Hugo Chavez as they reflect on the life of one of Latin America's most colourful leaders.
In its obituary, the Times recounts how he went from "little more than a minor irritant" on the fringes of Venezuelan politics to becoming a charismatic figure who inspired almost religious devotion among his millions of followers.
The Independent believes one of the world's leading oil nations will now face a "pitched political struggle".
The Daily Telegraph believes there will be little change in tone from the man whom Chavez chose to replace him. It says as the president lay dying, his deputy Nicolas Maduro moved swiftly to copy the anti-American rhetoric of the socialist leader.
The Guardian says his death has plunged Venezuela into uncertainty over the future of his socialist revolution. But first, it says, comes his funeral, which is likely to be "a vast, clamorous affair to rival Evita's".
'Pointless and harmful'
Predictably, there is little praise for Mr Chavez in the US press. "Late Venezuelan strongman Hugo Chavez proved that one person can make a huge difference. In his case, it was almost universally negative," argues an op-ed piece on the USA Today website. "Like almost all socialist experiments, Chavez's 'Bolivarian Revolution' was pointless and harmful. It has left Venezuela with a basket-case economy."
An opinion piece video on the Wall Street Journal website argues: "In Washington, there's likely to be a lot of relief because Hugo Chavez was a very effective demagogue and it's going to be very hard to replace him."
Another opinion piece, on the New York Times website, echoes this view, saying that Mr Chavez "was seen by some as an almost Messianic leader, both in Venezuela and elsewhere in Latin America… He had a televangelist's gift for oratory."
BBC Monitoring reports and analyses news from TV, radio, web and print media around the world. For more reports from BBC Monitoring, click here. You can follow BBC Monitoring on Twitter and Facebook.