Global perceptions of Hugo Chavez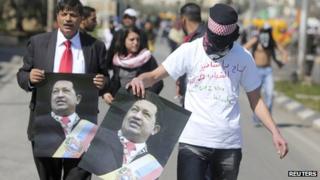 BBC journalists look at Venezuelan President Hugo Chavez's legacy in their respective regions and how he was perceived by governments and people.
Hossein Bastani, BBC Persian
Iran's President Mahmoud Ahmadinejad was a close ally of Hugo Chavez and the two leaders clearly got on very well together. In many ways, they had a similar style - both showmen and adept at talking directly to the man on the street. Iran has declared a day of mourning for President Chavez, and in an emotional statement on Wednesday, Mr Ahmadinejad said Mr Chavez was a "martyr" who would one day return.
Ordinary Iranians have been more sceptical. "Lucky Chavez," one person wrote on the popular Baztab site. "Ahmadinejad hasn't expressed such deep emotions before. Not even after the death of a great Iranian artist or cleric."
Many people in Iran are deeply resentful of the billions of dollars their country has invested in Venezuela at a time of deepening economic crisis at home. "Oh God, you sent relief to the Venezuelan people and you took away one of Iran's extortioners," said one comment on the BBC Persian Facebook page.
For the hundreds of thousands of Iranians who took to the streets to protest against the result of the 2009 presidential elections, Mr Chavez is the man who backed Mr Ahmadinejad, and they find it hard to forgive him. Another posting on the Baztab site was short and to the point: "Chavez, please take Ahmadinejad with you!" it said.
Farouk Chothia, BBC Africa
Many Africans saw Hugo Chavez in the same mould as Zimbabwe's President Robert Mugabe and Libya's late leader Col Muammar Gaddafi - revolutionaries with flamboyant personalities.
In 2006, he was invited, along with another Western pariah, Iran's President Mahmoud Ahmadinejad, to a summit of African Union heads of state in the Gambian capital, Banjul.
"In Venezuela, we were tired of all our oil going to Count Dracula [the US]. Now Venezuela is free and we have recovered control over our oil," Mr Chavez said to applause.
Such views have also made him popular with poor Africans, who believe they are not benefiting from their continent's natural resources, because they are either siphoned off by foreign companies or local elites, as they see it.
Zhuang Chen, BBC Chinese
"A great friend of China" is how China's foreign ministry spokeswoman Hua Chunying described Hugo Chavez after his death was announced. China cultivated closer ties with Caracas during Chavez's 14 years in power. Chavez's ideological agenda resonated with China's past. More importantly, Venezuela's vast oil resources have been vital to support China's breakneck-speed economic growth.
Chinese investments have poured into Venezuela in the past 14 years, totalling at least $50bn (£33bn). The China Development Bank (CDB), one of the country's three policy banks, has lent Venezuela over $40bn since 2008. Indeed, Venezuela became the largest recipient of China's investment in Latin America. China's state-owned enterprises have won contracts to build railways, houses and power stations in the country. Many of the investments and projects are part of the oil-for-loan programme, in which loans are paid for with oil shipments.
Many Chinese people admired Chavez's fighting spirit in standing up to the US. Citing Chavez's record in helping improve the daily lives of Venezuelans, some have admonished their own government to do more. But others have compared Chavez's "iron man" image to that of dictators like North Korean leader Kim Jong-un or China's own Mao Zedong.
Artem Krechetnikov, BBC Russian
The death of Hugo Chavez, though expected, is seen by officials in Moscow as a new challenge. The flamboyant anti-US leader was an important partner for Russia in Latin America and among the emerging economies because of the many oil and arms contracts between the two countries, but also as a counterweight to US influence.
There has been very limited reaction from the general public. Ordinary Russians care little about distant countries and international events not involving Russia or Russian citizens directly. Some people don't even know who Chavez was.
Among minority groups such as anti-Western nationalists, some see him as a hero, while liberal bloggers are making comments like: "One less dictator in the world!". Mainstream media have reported on Chavez's death in a neutral tone, mainly focusing on his biography.
Mahmut Hamsici, BBC Turkish
Hugo Chavez attracted strong sympathy among many in Turkish society, although Turkey and Venezuela have never been close political or economic partners. This is especially remarkable as the socialist left has not been a major political player in Turkey's recent history.
Latin American leaders like Fidel Castro, Che Guevara and Hugo Chavez have long been popular with some Turks, simply because they stood up to the USA.
This could explain why many in Turkey, who have radically differing opinions when it comes to domestic politics - from secular nationalists to Islamists - care about the death of Hugo Chavez.
Vineet Khare, BBC Hindi
Not many in India would know much about Hugo Chavez, except the internet-savvy. But he was a popular figure among the Indian left as a socialist leader who took on the "hegemonistic designs" of the US.
As soon as the news of his death broke, social media was full of condolences: "India needs a Hugo Chavez to balance the curse of crony capitalism," tweeted Gurinder Ahluwalia.
Indian Prime Minister Manmohan Singh paid his own respects to a "charismatic and immensely popular leader" who "leaves behind an enduring legacy of striving for social justice".