Venezuelan parties gear up for polls after Chavez death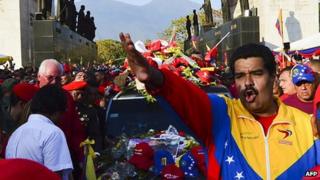 With everyone's attention on the funeral of the late President Hugo Chavez, politics in Venezuela is seemingly on hold.
But even while the official mourning period is still under way, both supporters and opponents of Mr Chavez are gearing up for an election.
In fact, they have been doing so for weeks, ever since it became apparent that Mr Chavez's health was deteriorating to the point where he was unlikely to return to office.
On Thursday, hundreds of thousands of his supporters queued to get a last glimpse of "Comandante Chavez" at his lying in state.
'No easy task'
Meanwhile, opposition leaders met to thrash out their campaign strategy.
Although the opposition parties have not yet announced their candidate, sources contacted by Reuters news agency said they had settled on the governor of Miranda state, Henrique Capriles.
Political analyst Luis Vicente Leon thinks Mr Capriles is the obvious candidate for the opposition to rally around, despite having been defeated by Mr Chavez in October's presidential election.
Mr Leon says that running against Mr Chavez in the last election has given Mr Capriles a head start, and the kind of name recognition other opposition politicians may lack.
"This won't mean that he'll have it easy," Mr Leon says.
Popularity contest
Mr Chavez, who led Venezuela for 14 years, was incredibly popular.
Since his death was announced on 5 March, hundreds of thousands of people have taken to the streets to mourn their president, openly crying and praying.
Vice-President Nicolas Maduro, who was named by Mr Chavez as his preferred successor, has been highly visible since the president's death.
On Wednesday, he led the procession taking Mr Chavez's body from the military hospital where he died to the military academy where his body lies in state.
His presence has not gone unnoticed and seems to have galvanised support for his candidacy.
On Thursday, Venezuelans queuing to view Mr Chavez's body chanted: "With Maduro, the people are safe!"
The exact timing of the elections remains unclear.
The Venezuelan constitution states that "should a total absence of the President of the Republic occur within the first four years of the constitutional period, the authorities shall proceed to an election within the next 30 days".
But whether that means that the government has to actually hold the election within 30 days, or just call it within that period is up for interpretation.
Mr Leon thinks that Mr Chavez's party (PSUV) may well try to hurry along the process in order to take advantage of the emotions of Venezuelans still mourning their lost leader, and before problems such as Venezuela's high inflation rate return to the forefront of their minds.
"The Chavez camp will try to build on an idealised image of the late president," he says.
Mr Leon thinks the best strategy for the opposition is "to show respect".
'Too restrained'
So far, Mr Capriles seems to have been doing just that.
Shortly after Mr Chavez's death was announced, he called for national unity and said that the opposition would support a smooth transition.
Referring to the late president he said: "We were adversaries, never enemies".
Opposition Congresswoman Maria Corina Machado said that the priority for Venezuelan politicians was to "rebuild the trust in our institutions and in ourselves to guarantee a peaceful path, union and freedom."
But some think opposition leaders have not been vocal enough.
Pro-opposition student leader Julio Cesar Rivas told BBC News that the opposition should have been playing a more decisive role during Mr Chavez's absence from the country for cancer treatment in Cuba.
Mr Rivas organised sit-ins and marches demanding "the truth" from the government on Mr Chavez's state of health.
He says he and his fellow protesters had to lead the protests, when they should have been organised by opposition leaders.
"Instead, those leaders kept quiet for a long time," he says.
Analysts say there is little space to manoeuvre for an opposition that is facing Mr Chavez's powerful legacy, especially at an emotional time so soon after his death.
"They have an opportunity," says Mr Leon.
"But only if they can show that Mr Maduro is only a satellite that reflects light, and not the star that creates it."