Lima's first woman mayor Villaran 'survives recall vote'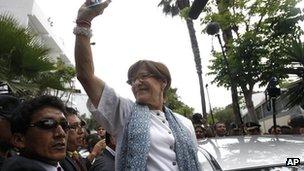 The first woman mayor of Peru's capital Lima, Susana Villaran, has narrowly survived a vote to depose her from office, preliminary results suggest.
They indicate that Ms Villaran was backed by about 52% of voters.
The campaign to recall her was backed by the conservative opposition who accused her of being inefficient - a claim denied by Ms Villaran.
In 2010 she also became the first left-wing politician to be elected as mayor of the capital.
About six million people were eligible to cast their ballots in Sunday's vote.
The electoral commission has promised to announce the official results on Monday but the latest results account for about 40% of the votes.
The results suggest that more than 615,000 voters backed Ms Villaran, while nearly 578,000 wanted to oust her.
After her victory three years ago, Ms Villaran, a human rights activist, promised to tackle corruption in Lima, which is home to a third of Peruvians.
Ms Villaran's supporters have accused the country's business elite and powerful conservative politicians of trying to oust her because of her progressive social policies.