Brazil police evicts Rio indigenous museum protesters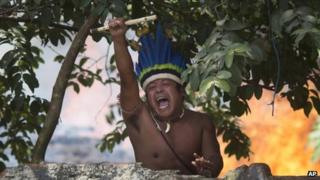 A group of indigenous Brazilians has been evicted from the building they had been occupying in Rio de Janeiro for more than six years.
Police used tear gas and rubber bullets to dislodge the indigenous people from the former museum.
The building is next to the famous Maracana football stadium.
The Maracana will stage the final match of next year's Football World Cup, and the authorities want to turn it into an Olympic Museum.
The indigenous community, known as Aldeia Maracana (Maracana Tribe), said it wanted to use the building to showcase its way of life to tourists during the World Cup and 2016 Olympic Games.
More than 20 families had been living in the building, which used to house the city's indigenous museum.
Behind schedule
Rio de Janeiro state had been granted an eviction order and wants to convert the building into an Olympic museum before the city hosts the games.
Police spokesman Col Frederico Caldas said his men had tried to negotiate a peaceful eviction but decided to move in after the indigenous group set fire to the former museum.
The authorities had initially wanted to demolish the site as part of preparations for the 2014 World Cup. They said Fifa had demanded the museum be razed, but football's world governing body denied the claim.
The building, which is in urgent need of repair, was donated by to the government in 1847 to serve as a centre for the study of indigenous traditions.
When it closed more than 30 years ago, members of indigenous communities across Brazil started to use it as a place to live.
Refurbishment of the 80,000-seat Maracana stadium is behind schedule and workers have only just begun laying the pitch ahead of its first international test, a friendly game between Brazil and England on 2 June.