Chile slow search for miner trapped 100m underground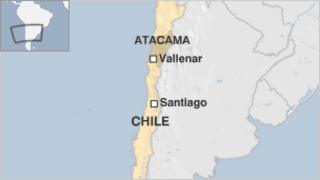 Rescue workers in Chile are continuing their operation to free a man trapped for more than a day in a mine in the northern Atacama region.
Mario Torres Lopez, 42, was working at a depth of about 100m (328ft) when the mine collapsed.
Authorities say rescue operations are advancing slowly because there is little room for manoeuvre.
Mr Torres Lopez is said to have communicated with rescuers tapping and hitting the walls.
"We are working to build a ramp to keep on removing the rubble from the collapse," regional mining secretary Mauricio Pino Sid said on Twitter.
He also tweeted that the miner was not trapped 300m underground, as was initially reported.
"It's only artisanal mining work there."
Rescue workers said they had not had any visual contact with Mr Torres Lopez, but that he had responded to noise signals they had made.
It is not clear if he was injured in the collapse at the Victoria mine, some 40km (25 miles) from Vallenar.
In 2010, 33 miners were trapped in a copper mine in the same region. They were pulled up through a small shaft after 69 days underground.
After the incident at the San Jose mine, the Chilean government tightened mine security measures across the country, but injuries and deaths due to tunnel collapses and rockfalls remain a common problem.