Chile ex-president Bachelet to run for re-election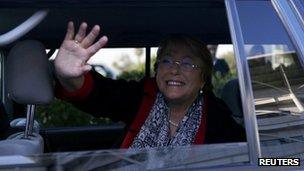 The former president of Chile, Michelle Bachelet, has said she will run for a second mandate in the November poll.
Mrs Bachelet became the first female president of Chile in 2006, serving out her term in 2010.
She has spent the last three years in New York as head of the United Nations gender equality agency, UN Women.
The centre-left politician stands a good chance against Laurence Golborne, the centre-right candidate backed by President Sebastian Pinera.
Chilean law prevents its presidents from serving consecutive terms.
Mrs Bachelet left the office with a high approval rating, although many criticised her government's reaction to the deadly earthquake and tsunami in February 2010.
More than 500 people died, and a lawyer representing victims of the disaster sued the former president and other officials for "denial of assistance".
Her manifesto will not be written "between four walls", Mrs Bachelet told reporters.
"I am going to promote debates and meetings so this campaign's programme gets a stamp of civic involvement," she said.
Mr Pinera recently reshuffled his cabinet, after two of his ministers decided to run for presidency.
Public Works Minister Laurence Golborne, who oversaw the spectacular rescue of trapped miners in 2010, and Defence Minister Andres Allamand both hope to be Chile's next leader.
Both of them welcomed the announcement of Mrs Bachelet's candidacy.
President Pinera became Chile's first right-wing leader in 20 years when he was elected in 2010.
However, he has seen his popularity drop sharply since then, and in last month's local elections, his centre-right alliance lost some key races, including in the capital Santiago.
Mrs Bachelet's return to Chile on Wednesday was shrouded in speculation about her ambitions for a second presidential term.
She had previously said she would announce her decision by the end of March.